With tourism fully reopened, visitors can experience Vietnam, once again, in several different ways: motorbike and bicycle tours; walking tours and food exploration tours.
Here's a selection from Tripadvisor readers.
Hue to Hoi An with Lefamily Riders tours
Organized by tour operator Lefamily Riders, the motorbike tour, which departs from former imperial capital Hue, allows visitors to explore some of the town's popular tourist attractions such as Elephant Spring and Lang Co Beach before conquering Hai Van mountain pass to reach Da Nang City.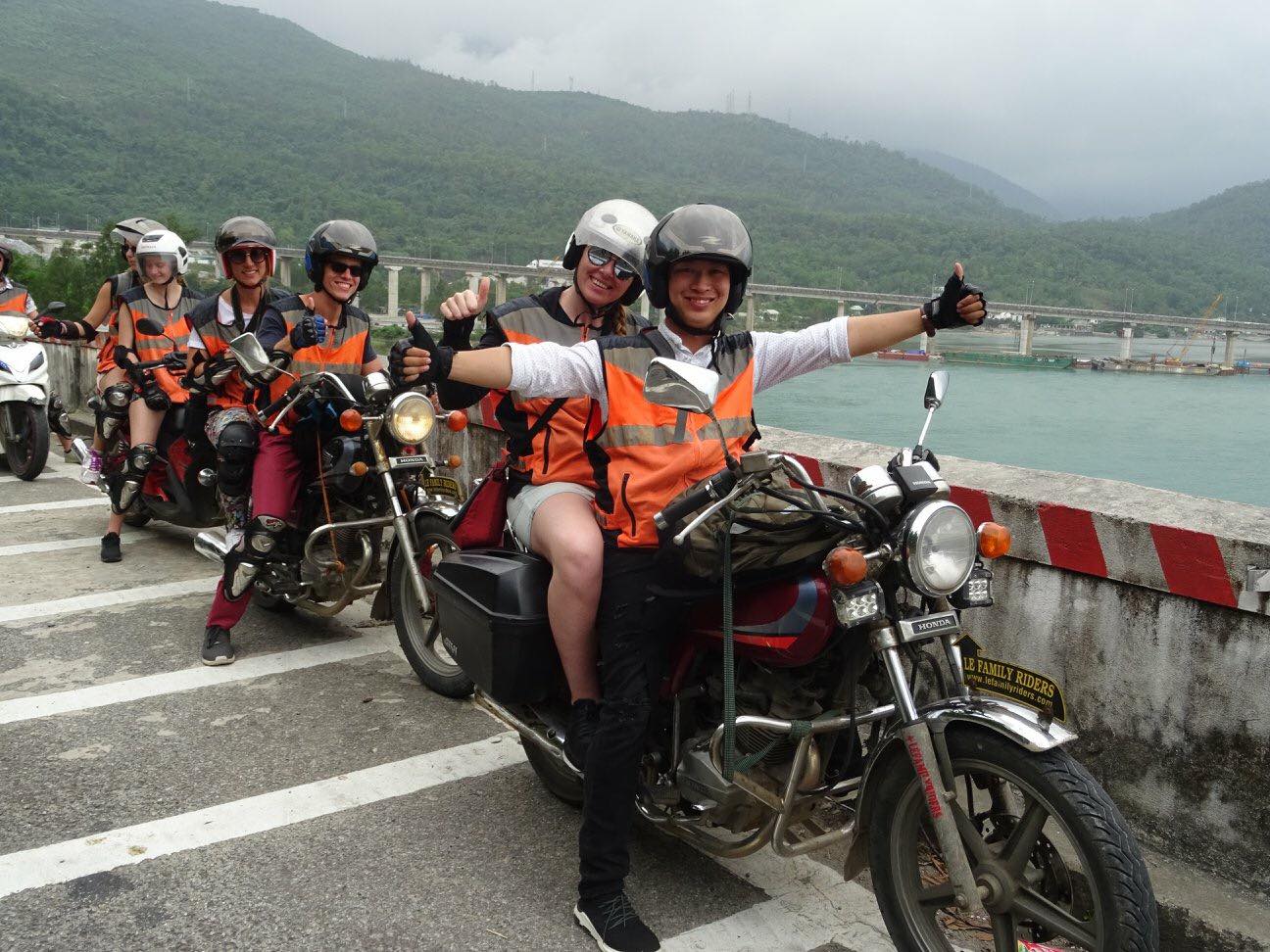 Tour guides carry their passengers on motorbikes through Lang Co Bay in Hue. Photo courtesy of Lefamily Riders
In Da Nang, tourists visit the Marble Mountains with its network of caves, tunnels, towers and pagodas built by Mahayana Buddhists and the Nguyen Dynasty Kings before continuing the journey to Hoi An.
In Hoi An, soak in the vibes of an ancient town that has preserved a lot of its original characteristics.
Tourists will be picked up from any hotel in Hue, Da Nang, Hoi An and will return to the starting point at the end of the tour.
The tour cost of $74.77 per person covers lunch, bottled water, private transportation, all fees and taxes.
Private street food tour on motorbikes
Run by HCMC-based tour operator Saigon Back Alley Tours, this food tour on motorbikes takes visitors around four hours to explore the street food scene in Vietnam's southern metropolis.
Visitors get to try some of the city's popular street foods like bun bo Hue (Hue-style beef noodle soup), BBQ pork with rice noodle, banh mi, the delicious Vietnamese sandwich staple, sugarcane juice, grilled banana with coconut milk, banh xeo (Vietnamese crispy pancake) and sweet soup dessert.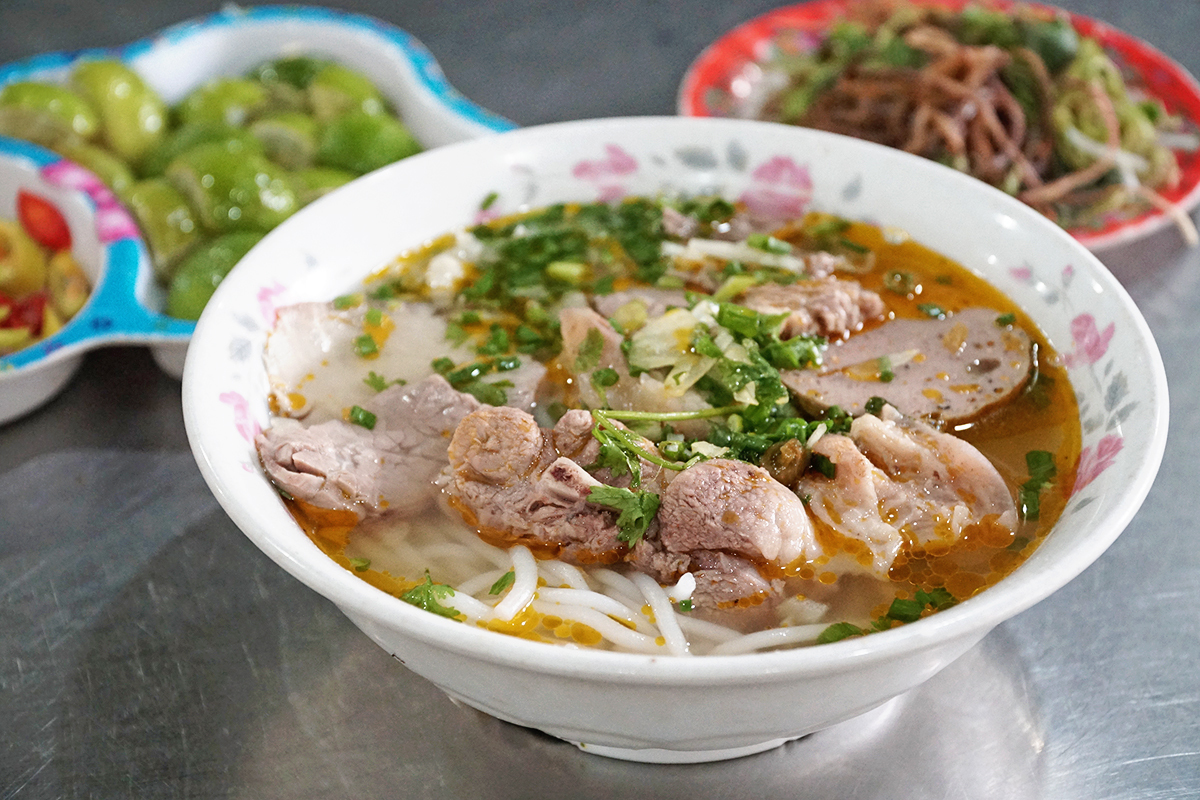 A bowl of Hue-style beef noodle soup at a stall in HCMC's District 1. Photo by Di Vy
The tour costs from $40 per adult, including beverages, food tasting, dinner, snacks and hotel pickup and drop-off.
Hanoi street food walking tour with real foodies
Run by Ha Food Tours in Hanoi's Hoan Kiem District, this three-hour tour gives tourists an opportunity to try out around street eats from noodles to steamed pancakes.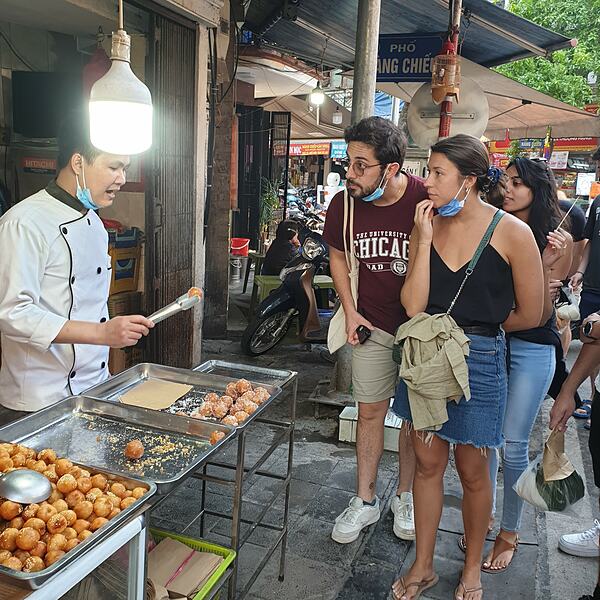 Foreign tourists drop by a stall selling banh ran (Vietnamese doughnuts) in Hanoi's Old Quarter. Photo courtesy of Ha Food Tours
Tour guides will come to hotels inside the Hanoi's Old Quarter to pick customers up before taking them to good street eateries to enjoy rice noodle soup with beef or chicken; rice noodles with grilled pork; boiled snails or snail soup with noodles; sticky rice; various kinds of donuts; steamed pancake or typical Vietnamese sandwiches.
They can also enjoy a cup of egg coffee, a Hanoi specialty, at the famous Giang coffee shop on Ly Thai To Street. This drink with condensed milk, strong black coffee and whisked egg yolk was concocted by an inspired barista in the 1940s when there was a scarcity of milk in the city.
The tour costs $36.93 per person.
Evening food tour in HCMC with women on scooters
Run by Saigon Kiss Tours, the tour has women aged 19-22, proficient in English and driving, take tourists around a tour of Saigon's food scene on scooters, focusing on hard-to-find street food stalls that offer traditional dishes like banh mi with meatballs or banh trang nuong (grilled rice paper).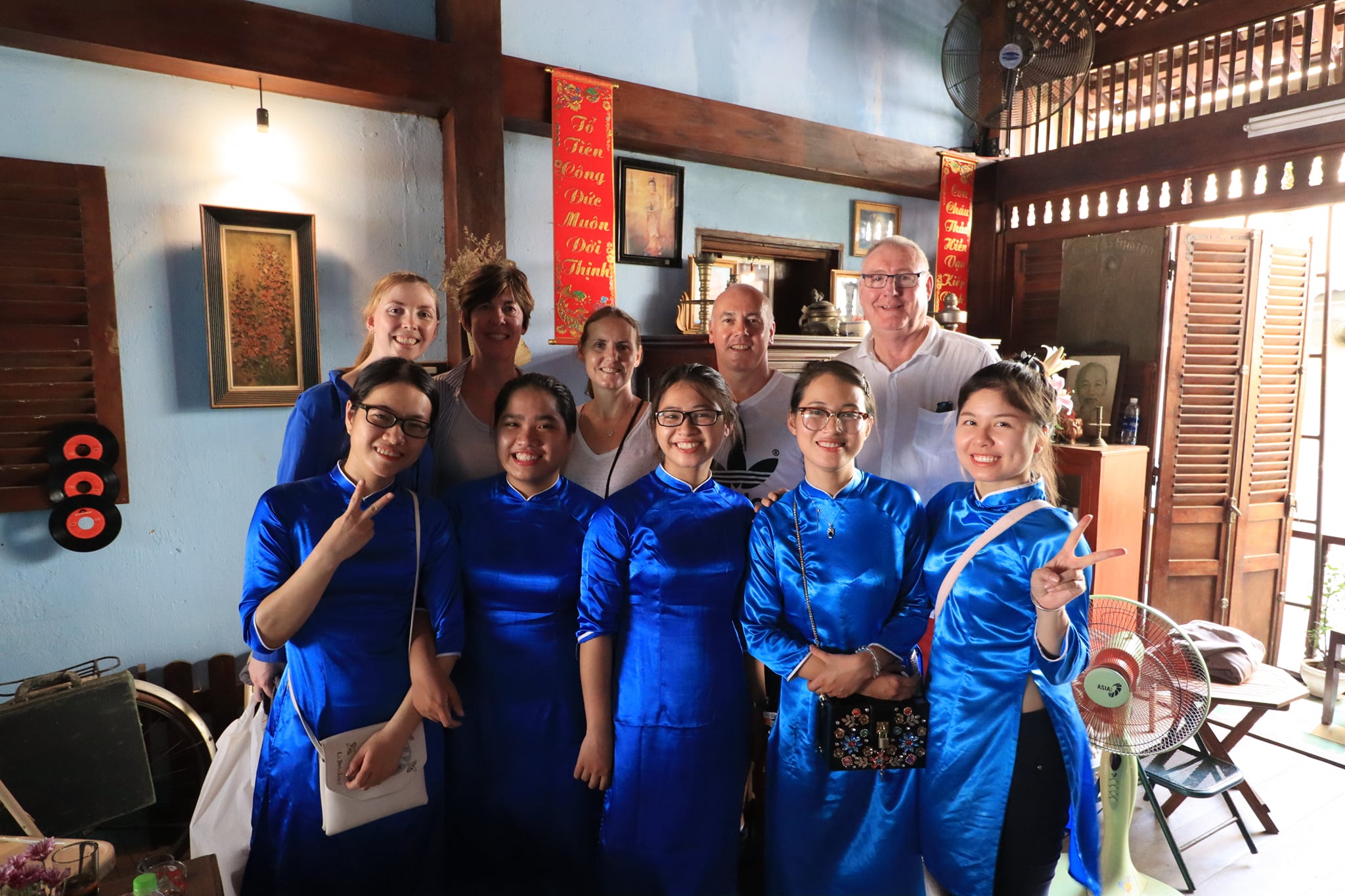 Female tour guides (front row) wearing traditional ao dai pose for a photo with foreign tourists at a stall in HCMC. Photo courtesy of Saigon Kiss Tours
The four-hour tour costs $59 per adult and each batch will have a maximum of 15 tourists.
Private tour of Da Lat countryside
This tour, which lasts five to nine hours, will take tourists to visit a coffee farm and learn interesting things about the coffee-making process and enjoy a cup of Vietnamese-style coffee with a nice view. Next, they can watch silkworm rearing and the process of silk-making at a silk factory.
The tour includes a stop at the Elephant Waterfall and the Linh An Pagoda, which has a giant statue of the Happy Buddha and the highest statue of Guan Yin (Lady Buddha) in Vietnam.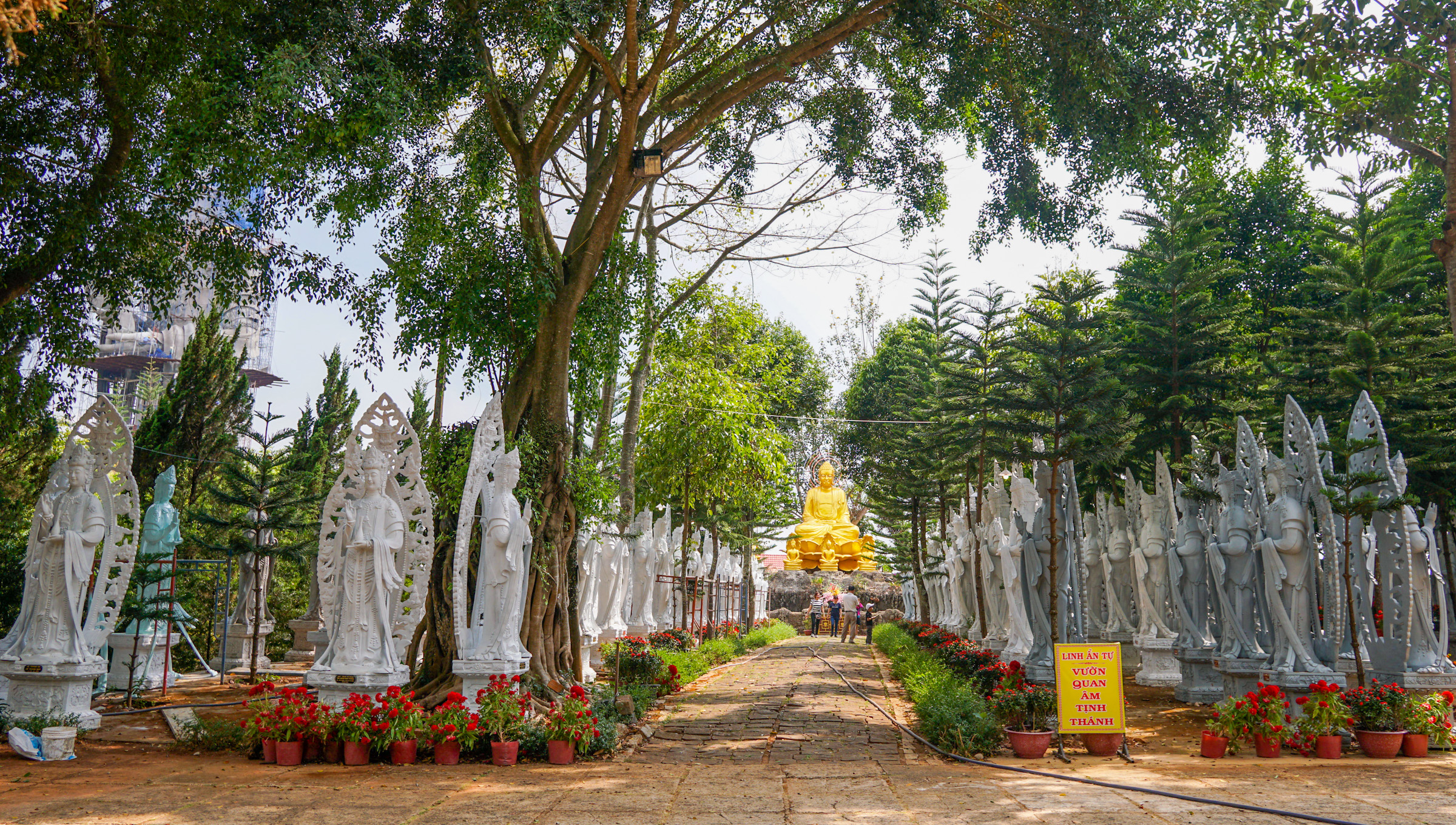 Buddha statues inside Linh An Pagoda in Lam Dong Province. Photo by Quynh Tran
A visit to the K'ho ethnic minority village is also included in the tour.
Organized by Da Lat Private Tours, it costs $60 per person.
Hidden gems in Hoi An walking tour
Run by Angiee Adventures, this tour guides visitors to local family businesses that produce and sell signature products in Hoi An. Among other things they can learn how Vietnamese produce organic bean sprouts and Cao Lau noodles; as also how Japanese, Chinese and Westerners have impacted life in Hoi An and its cuisine while enjoying dishes from Vietnamese, Chinese and French cuisines.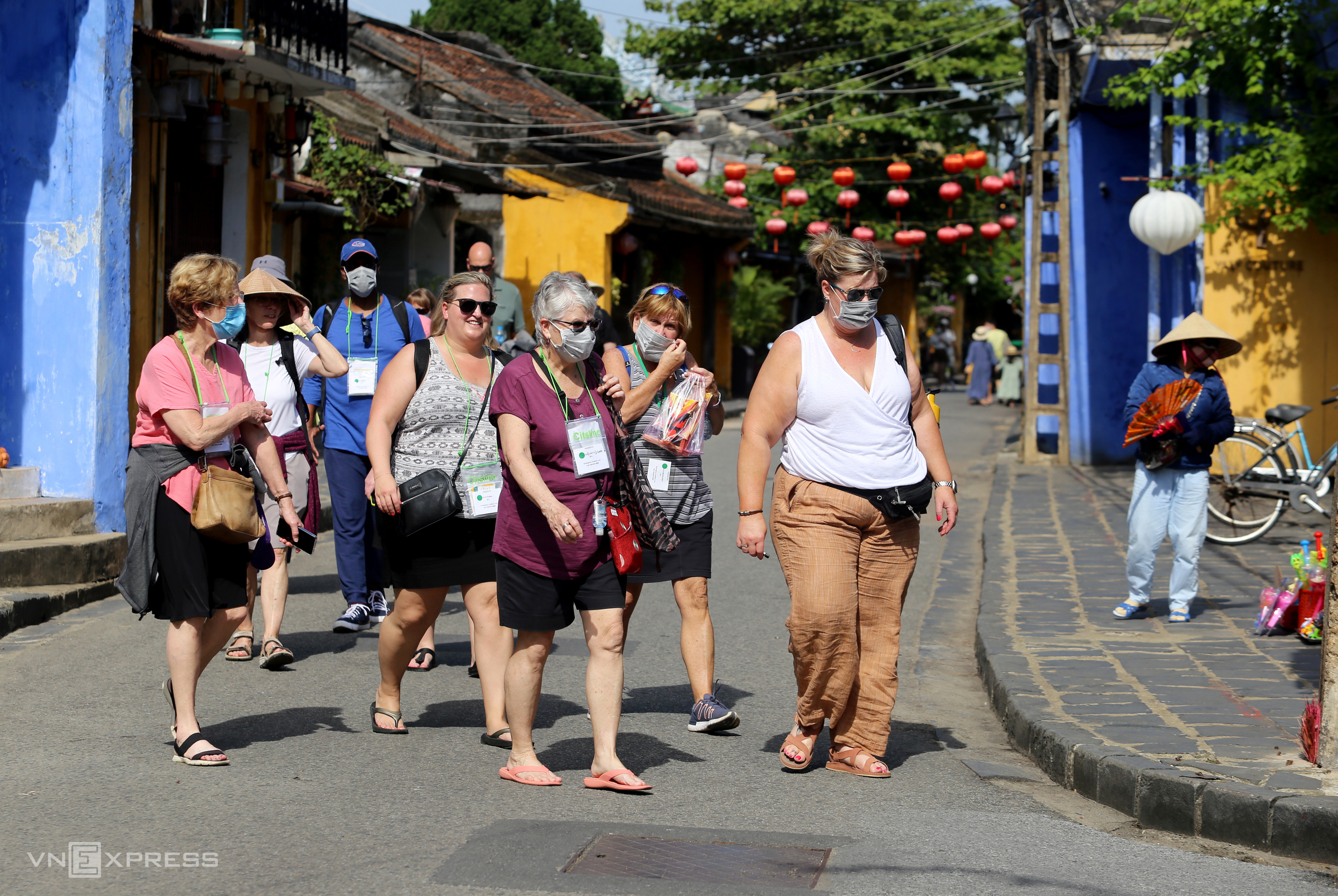 Foreign tourists walk along Tran Phu Street in Hoi An, April 2022. Photo by Dac Thanh
The tour, which takes around three to four hours, costs around $40 per person.
Easy ride from Hue to Hoi An
This is an eight-hour journey starting in Hue and moving to the ancient town of Hoi An on motorbikes.
Along the journey are stops at fishing villages, waterfalls, beaches and other attractions.
One can opt for a professional driver to sit back and take in the views, or go for the adrenaline rush and ride on your own.
Foreign tourists experience motorbike tour in central Vietnam. Photo courtesy of Hue Touring
One of the highlights of the tour is the stop at the Marble Mountains in Da Nang where the visitors go on a trekking discovery of hidden caves that have become temples to Buddhist male and female deities.
Operated by the Hue Touring company, this tour costs $48.72 per adult.
Da Lat tour with Elephant Falls & Pongour Falls
This tour, which starts at 8:30 a.m. and ends at 5 p.m., includes visits to the Me Linh coffee garden in the Central Highlands province of Lam Dong and outskirts of Da Lat Town, and to the Elephant and Pongour waterfalls where some adventurous sports await.
Also on the itinerary is the Tuyen Lam Lake, around 7 kilometers from downtown Da Lat, where you can go kayaking or camping in the middle of a green pine forest.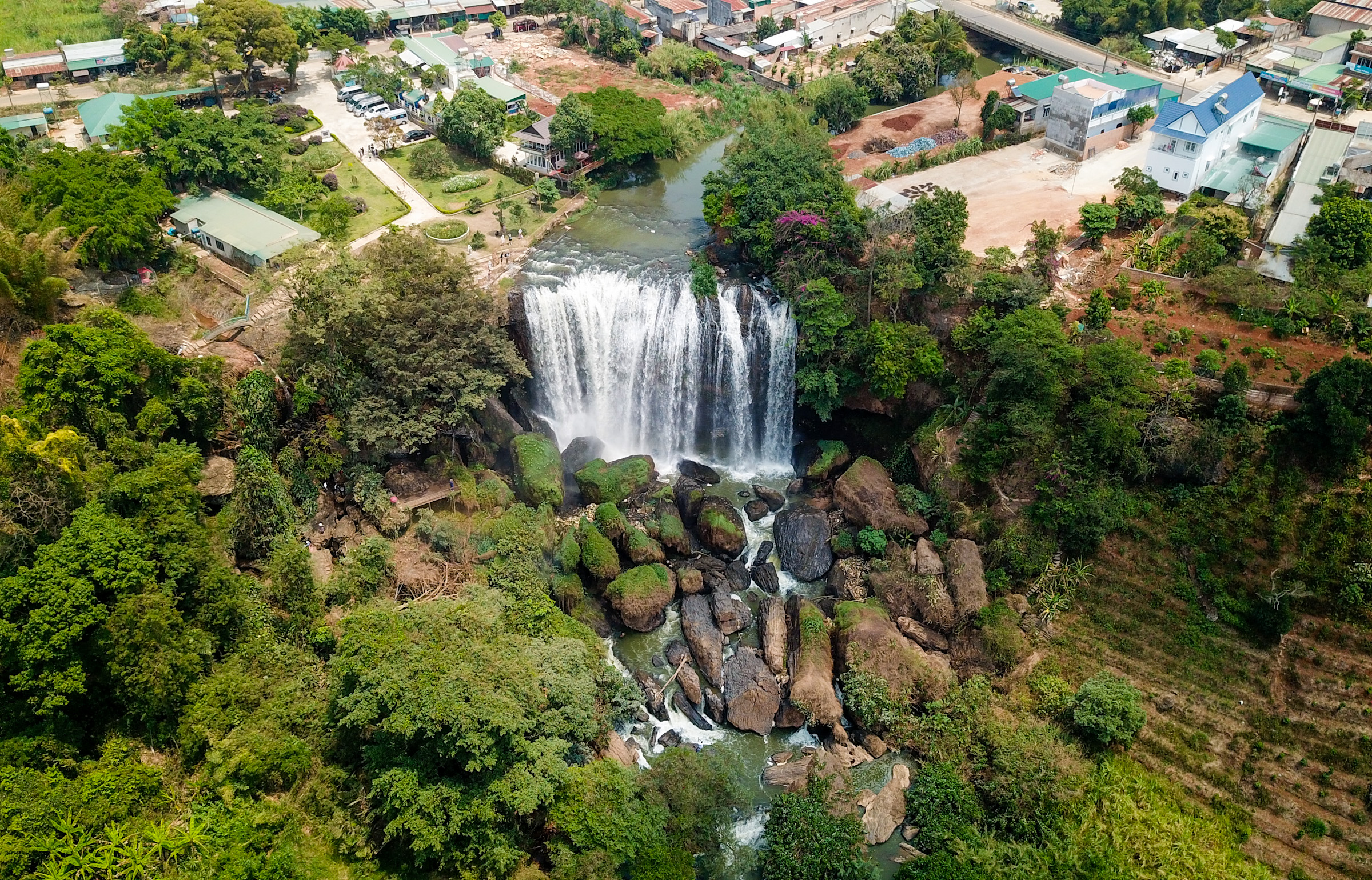 Elephant Falls in Da Lat. Photo by Quynh Tran
The tour, run by Easy Rider Mr.Viet, costs from $48 per person.
This tour requires good weather. If it's canceled due to poor weather, visitors can choose between a different date or a full refund.
8 different Hanoi street foods at noon
A very special, extended lunch experience can be enjoyed in Vietnam's capital city with this tour that takes three hours.
The dishes covered in this tour with visits to food stalls inside Hanoi's Old Quarter include: banh cuon (steamed rice rolls), doughnuts, bun cha (a bowl of savory, sweet and sour fish sauce with meatballs and thick pork slices served with a plate of white vermicelli); nem chua (fermented pork roll) served with salad, banh mi (Vietnamese sandwich), and coconut and soya desserts.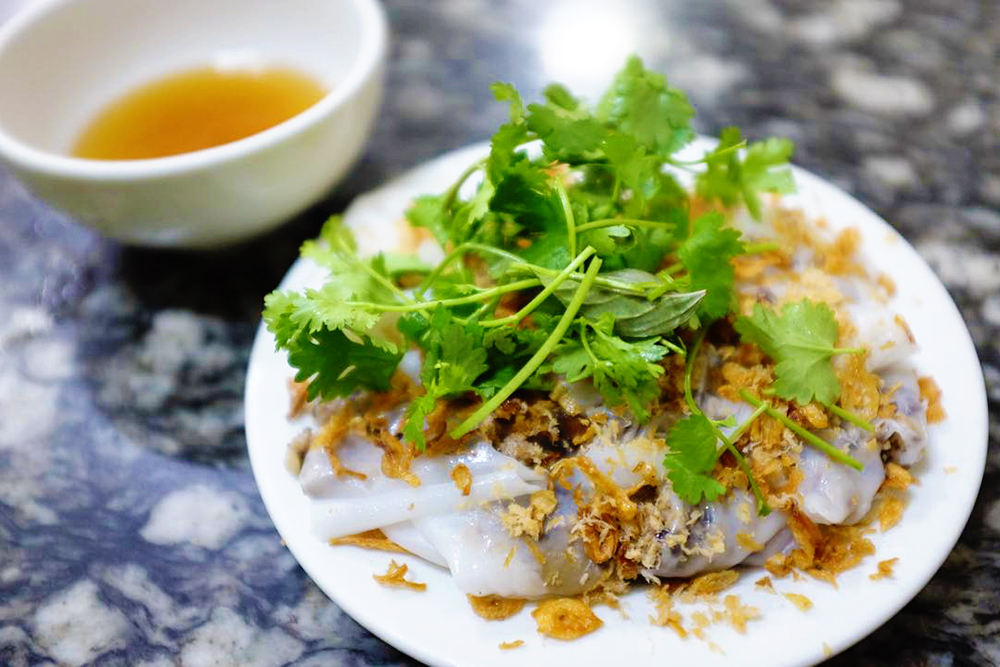 A plate of banh cuon at a stall on Hang Ga Street, one of the oldest in Hanoi. Photo by Di Vy
Local beer, rice wine and the famous egg coffee are also on the menu in this tour offered by Hanoi Street Food tour for $26 per person.
Bike tour of the Hoi An countryside
Organized by Heaven and Earth Bicycle Tours based in Hoi An, this five-hour tour, which costs from around $20 per person, takes visitors to traditional craft villages that weave sedge into various products and also a village that makes boats. These villages are accessed while pedaling around Duy Vinh Island, about five kilometers from downtown Hoi An.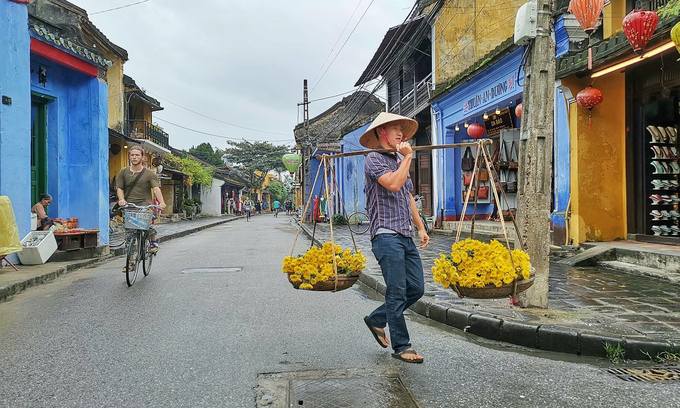 A foreign tourist cycles in Hoi An ancient town, 2019. Photo by Do Anh Vu
Tourists will be picked up at hotels inside the ancient town and taken for a cruise down the pretty Thu Bon River. On reaching the Duy Vinh Island, they can cycle leisurely through tranquil villages and rice fields.
In the craft villages, watching the art of weaving colorful sedge mats that Vietnamese people have used to sleep on for many years.