Mountian road in Ha Giang
The remote province of northern Vietnam with the most beautiful scenery
Please read carefully this article if you want to still keep protected this beautiful area without the impact of mass tourism. Ha Giang province (Hà Giang) in northern Vietnam is less frequented by tourists, but the popularity is growing. Ha Giang is the place where almost 90% of the population are ethnic minorities with their own cultures and lifestyles. During the last 20 years, whilst other Vietnamese provinces and cities experienced economic development, Ha Giang was the place which seems to have stood still in time. The main reason for this has been the political situation and relations with China. This Ha Giang travel guide is one of the most read articles on this website.
Ha Giang is a unique place, for now still untouched by mass tourism
The Chinese invasion of 1979 has been forgotten now, and the Vietnamese Government has financially helped with the construction of the new roads and infrastructure, and there are also some modest hotels. In Ha Giang town you will find any type of hotels and accommodation as well as homestay. If you continue to Dong Van and Meo Vac, the amount of accommodation on offer shrinks. Vietnamese tourism is gradually increasing, and in addition some foreign tourists are coming here and they are mostly excited.
Wedding of Lo Lo ethnic group in Dong Van
You will see a lot of fantastic mountain scenery over the whole area
…and starting with hills, valleys and villages and with the ethnic minorities (Hmong, Tay, Dao, Nung, Lo Lo, Giay, Pu Peo). The farthest and the most beautiful place of Ha Giang province is Dong Van Karst Global Geopark, designated by UNESCO as one of 77 sites with the important geological and cultural heritage. This geopark is littered with the ethereal karst formations that are nearly 400 million years old, and has twoprotected areas.
Authenticity, nature, beautiful mountains and no tourist crowds
Ethnic minorities create a unique and rich cultural heritage of the area. Traditional practices and habits of these ethnic groups are very diverse and interesting, and they attract many travellers who have a chance to explore these unique aspects. The northern most place of Vietnam is the village Lung Cu which has the Vietnamese flag on Dragon mountain. Lung Cu is known for its many special foods and beverages. You can taste the alcohol made from honey and corn, or Thang Co soup, which is cooked from every part of the animal.
Thang Co soup
Ha Giang motorbike loop – drive through the fantastic areas of Meo Vac
Ha Giang motorbike loop – it is a very popular motorbike trip in Ha Giang province. The best idea how to start your motorbike loop in Ha Giang is to rent a motorbike in Ha Giang town. Then you can travel by motorbike to the northernmost part of Vietnam. You can go to Meo Vac town from Dong Van town, through the mountainous area at an altitude of 1,500 meters. This area is one of the most beautiful that you can see in the Ha Giang province. If you manage your time to visit this city on Sunday, you can go to the Sunday Market, which takes place outside the city. People from the surroundings come here to sell their things, animals or food.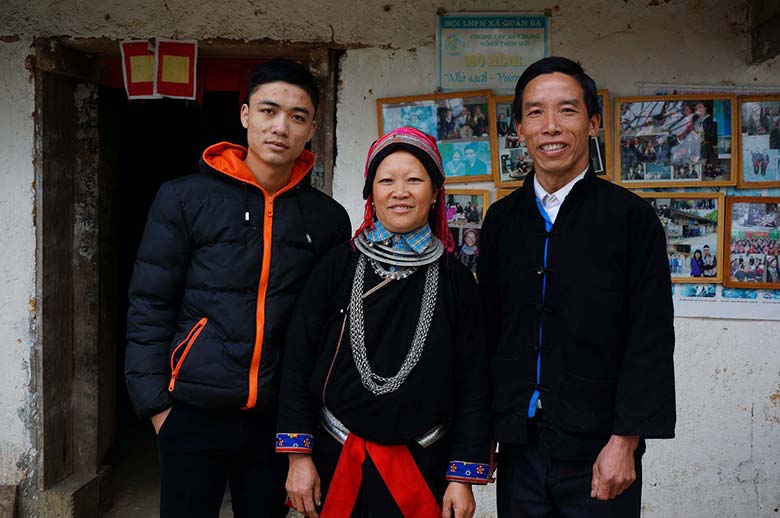 A homestay of Dzao people in Quan Ba, Ha Giang
There are plenty of ethnic markets in Ha Giang province, almost one in each town. One of the most interesting is Khau Vai "Love market" 20 km from the city center, see the map. People from the ethnic minority Hmong, Tay and Lo Lo come here seeking a life partner or a change in partner! This market is held only once a year on the 27th day, third month of the lunar calendar.
Lung Phin market in Meo Vac
Visit Meo Vac market with ethnic residents every Sunday morning
Meo Vac town in the province of Ha Giang is an ideal place to visit the Sunday market, where ethnic residents sell mostly cattle but also dogs, goats and pigs. This market is not just for selling goods, but is also important for maintaining the social relations of the ethnic people. Ethnic residents (Mong, Tay) from distant areas around the town of MeoVac will meet there. Some people travel overnight on foot with cattle covering typically 20 km. The market starts every Sunday morning, its most busy from 7-10 am and you can taste local food and corn and rice alcohol.
Try to allocate at least 3-5 days to explore the province of Ha Giang
Meo Vac ethnic market in Ha Giang province
You have to buy a permit for the remote areas in Ha Giang province
This permit costs $10 and can be obtained at the Immigration Office in Ha Giang town (see map) or at the police station in Meo Vac or from receptionsist from hotel/hostel. Near the town of Ha Giang, 7 km to the south you can visit the Phuon Thien cave. It is a place of many monuments and many plum, pear, orange and apple trees grows here. If you go from Hanoi, the best way is to take the train to Lao Cai and then a bus from this city. The bus trip from Lao Cai to Ha Giang town may take up to 6 hours, so I would say the best wayfor sure is with a motorcycle.
The Hmong king's palace (Vuong Chinh Sinh) in Sa Phin village
On your way to the furthest north places in northern Vietnam – Dong Van and Meo Vac, visit the The Hmong king´s palace in Sa Phin. This unassuming palace is located along the road to Dong Van. However, it is very important for the local Hmong community. Residents of this area during the reign of Vương Chinh Đức together with Ho Chi Minh gained national freedom. The palace was used as a residence and fortress during Vuong Dynasty. You can also learn something about the history of Ha Giang province.
Noong lake – 25km from the town of Ha Giang
Noong lake – near to Ha Giang town. The lake with trees growing in the water
If you stay in Ha Giang town for a while, you can visit the large freshwater Noong Lake. The lake is 25 kilometers south of the city, and in the monsoon period it may be 80 hectares large. A fascinating insight is that in the dry season, when the water depth decreases, the receding waters reveal trees growing in the lake. Local fishermen from Ha Giang catch fish and shrimp in the lake, and you can ask them for sailboat trips on the lake. Its no problem getting there with a motorbike.
Ma Pi Leng Pass – The Pass, which goes through the high mountains area
After a few minutes drive from the city of Dong Van the famous road and mountain pass begins – Ma Pi Leng Pass. It's probably one of the most beautiful roads you can ride in Vietnam. The modern history of the road started in the period between 1959-1965, when thousands of young people from 17 ethnic groups built the road, the construction process taking 11 months.Initially, the road was only for walking or horse teams, but later it was extended to cars and trucks. Hills and mountains create fantastic images but the roads are dangerous here, ride cautiously on a motorcycle.
Ma Pi Leng Pass in Ha Giang
Hoang Su Phi is a remote area in Ha Giang with beautiful rice terraces
Hoang Su Phi in the province of Ha Giang is an area less frequented by tourists. But that does not mean it is not pretty. Through the entire area you will pass huge areas of rice terraces, unspoilt nature and ethnic villages. If you stay for a few days in Ha Giang, this place is definitely worth a visit, but you need to take at least two days. Hoang Su Phi is about 70 km from the city (see map), but to get there through the winding road takes a lot of time.
Hoang Su Phi – untouched nature, ethnic villages and cultural heritage
There are several cheap hotels (Nha Nghi) in Hoang Su Phi town, or you can use a homestay with local people, just ask the people in the city. Also Panhou village ecolodge is on the way, with higher prices for tourists. Ethnic residents are composed of 11 ethnic groups (mainly Hmong, Tay, Dao and Nung). Hoang Su Phi lies at an altitude of about 1,000m, the weather is about the same as in Sapa, but does have more limited services.
Rice terraces in Hoang Su Phi
Ha Giang – Travel tips
Getting Your Permit in Ha Giang:
If you travel to the farthest places (and most beautiful – Dong Van, Meo Vac, Lung Cu…) in the province of Ha Giang, you will have to buy a permit. This permit can be purchased at the immigration office in Ha Giang town or any hotel/hostel on the way.
Ethnic markets in Ha Giang:
It's a very good option and travel tip to visit a small or large authentic ethnic market in Ha Giang province. The best days for visiting a large ethnic market are Saturday or Sunday. Some markets take place in the working days in the week. It's a great opportunity to see the people of ethnic minorities, who came here travelling many kilometers from their homes. They sell mainly fabrics, animals and food.
Cow market in Meo Vac
How to get from Hanoi to Ha Giang town:
From Hanoi to Ha Giang by bus:

Ha Giang town is very far from Hanoi (about 300 km) and the best and most interesting places are in Meo Vac and Dong Van. It is possible to use a sleeper bus from Hanoi to Ha Giang town. There are some buses going to Ha Giang from Gia Lam or My Dinh bus station in day & evening time. The one-way bus tickets cost approx $10-18 and this way of travel to Ha Giang can take about 7-8 hours. 
How to get from Sapa to Ha Giang town?
You can go with one of the local buses from Sapa to the Lao Cai town. Take other a bus to Ha Giang town in Lao Cai. It is a minivan, costs about $10 for 1 way ticket.
How to get from Ha Giang to Dong Van town:
Dong Van – it is a northernmost town of northern Vietnam. There are some local buses from Ha Giang to Dong Van. For the current timetable I recommend to ask at the bus station or at your hotel, hostel in Ha Giang. Surrounding of the Dong Van town offers fascinating sceneries. The best way how to explore this area is to rent a motorbike in Ha Giang and travel on your own.

Lots of travelers rent a motorbike in Ha Giang town and then go to the far north (Dong Van, Meo Vac, Lung Cu …). Renting a bike for 1 day costs around $7-15. I recommend choosing a bit more of a powerful bike, not a scooter, for this mountainous area. A good choice is a semi-automatic bike. Before you set off, check and try your motorbike, check the tyres…Read more information about ridind a motorbike.
Ha Giang was almost forgotten in the time
Weather in Ha Giang:
The best time to visit Ha Giang is in the dry season, in the months from September to April. But it is good to know, the winter months (December, January, February) may be very cold. Recommended months > September, October, November, March, May. It is not good to go to this mountainous area during the rainy season (June to September, landslides possible). The average temperature is approximately the same as in Hanoi. But in the mountain areas the weather can change quickly and the roads can be dangerous. However, the amount of precipitation in the rainy season is higher than in Hanoi.
Accommodation in Ha Giang:
You will find a lower category hotels, guesthouses (Nha Nghi), but also offer of homestay accommodation in Ha Giang town. When you go with a motorbike you can accommodate in Coc Pai, Hoang Su Phi, Tam Son, Yen Minh, Dong Van, Meo Vac, Bac Me. There are some cheap hostels, hotels and homestays. Now it is not a problem to book your accommodation in this province online. The number of hotels in this province still growing. There are lots of typical homestays, wooden cottages but also hotels in different places.
What to do in Ha Giang:
• Exploring the area on a motorbike
• Meet the local ethnic people and also colorful ethnic markets (various ethnic groups)
• Ha Giang motorbike loop (see map), you can also travel on a bicycle
• Ecotourism – Ha Giang has lots of very nice ecohouses or homestays and it is full of nature
• Trekking (fascinating mountain area, if you want to visit the remote area you should have a guide)
What to avoid and not to do in Ha Giang:
→ Do not buy tourist items from small children
→ Do not give sweets and money to children
→ If you can avoid shopping in plastic goods (bags, bottles, waste disposal systems are unfortunately not in many villages)
→ Do not enter to the local schools without notice
→ Ask people if you can shoot them
→ Do not make too much noise in rural villages (you are not on a party)
Places of Interest in Ha Giang:
• Noong lake (25 km from Ha Giang town)
• Sunday market in Ha Giang town
• Hoang Su Phi, Xin Man
• Thac Tien – Đeo Gio (Fairy waterfall)
• Yen Minh
• Dong Van Karst Global Geopark
• The valley of Quan Ba + Tam Son town
• Lung Khuy Cave (10 km from the town of Tam Son)
• Thien Phuong cave (7 km from the city)
• Northernmost village of Vietnam – Lung Cu
• Lung Cu flag tower
• Dong Van and Meo Vac
• Đồn Cao viewpoint in Dong Van town
• The Hmong king's palace (Vuong Chinh Sinh)
• Khau Vai love market (once per year)
• Ma Pi Leng Pass and Nho Que river
• Tham ma Pass
• Sunday market in Meo Vac, Dong Van, Yen Minh…
• Male market in Dong Van
• Ethnic minority villages (Pho Cao, Pho Bang, Sung La, Lung Cu…)
• Chiêu Lầu Thi (Floor Thi Chieu) mountain (2402m)
• Tay Con Linh (Tây Côn Lĩnh, 2427m) – the highest mountain in Ha Giang province

Ha Giang – tourist map:
 Where to go from Ha Giang:
You can continue to Dong Van, Meo Vac (the northernmost places in Vietnam), Bac Ha, Sapa, Cao Bang, Ba Be Lake