October to December (Fall) is the best time of year to visit Halong Bay thanks to the pleasant weather and low chance of rain, though you can expect double the crowds. While June to September (Summer) is the low season and has a higher chance of storms and typhoon.
However, with some planning, you can have an amazing Halong tour with half of the normal price when booking cruise in the low season.

This post will give you pros and cons for each season of weather in Halong Bay, so you can easily to choose the best time to visit that most suitable with your schedule, budget…
Also, there will instructions what you can do in case of your cruise tour get canceled due to bad weather at the end of the post.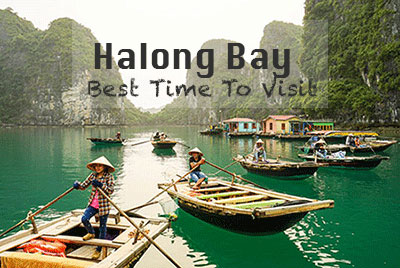 Halong Bay Weather Overview
Halong locates in the North of Vietnam- just 156km away from Hanoi capital so the weather in Hanoi and Halong is similar. 
Both Hanoi and Halong Bay climate share the same typical humid & tropical monsoon weather. 
While the South of Vietnam has only two seasons (rain and dry season), Halong has 4 seasons with its own weather features. 
Take a look at the following graphs for an overview of the weather conditions in Halong: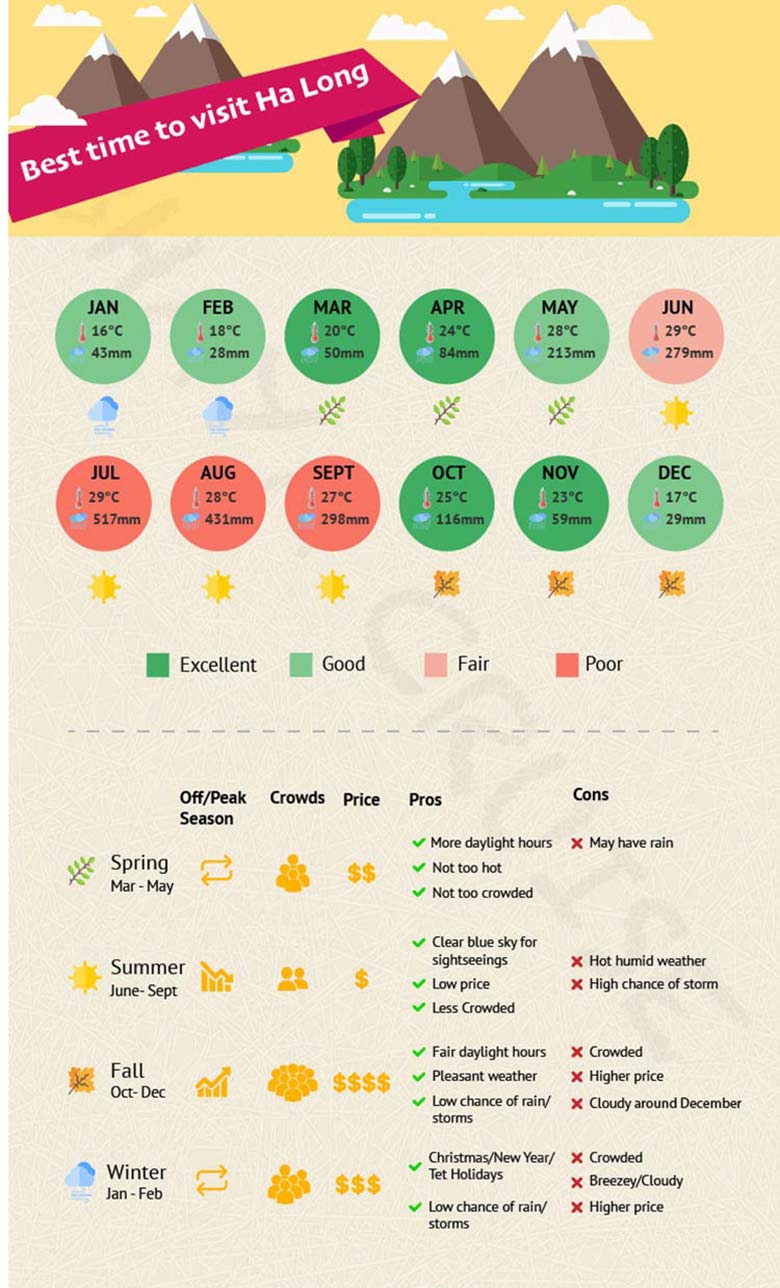 Winter (January – February): Mystical Halong Bay
The temperature of Halong Bay is around 13-20°C which is very pleasant and perfect for relaxing. 
There is sunlight during the day but mostly you will see fog and drizzle in the morning and late afternoon. 
However, during this time you can see a completely different look of Halong Bay.
A mystical Halong Bay, where the rock formations hide under cloudy fog, appear, disappear and then show up again.
Compared to October to December, Halong is less crowded and you will have the chance to experience Lunar New Year – the most important holiday in Vietnam.
Spring (March – May): The New Beginnings
The weather is not hot yet but it will be more likely to rain. Humidity will start to increase during this time.
However, the weather is still pleasant and there is more sunlight for outdoor activities such as swimming and kayaking in the daytime.
When you visit Halong during this time, you can avoid the peak season and still enjoy the nice weather with various festivals, including the Halong Carnival (which is held annually in April).
Kayaking in Halong Bay
When you visit Halong during this time, you can avoid the peak season and still enjoy the nice weather with various festivals, including the Halong Carnival (which is held annually in April).
Summer (June – September): Storm Season
Can be hot and humidity for westerners but Halong during this time is very charming with crystal clear sky and emerald water.
There can be some light rain but overall, you can expect a lot of direct sunlight. 
If you want to enjoy a clear view of the bay, especially from the seaplane, this is the best time to do so.
There will be more time for swimming, kayaking, and other water activities than in the fall and winter.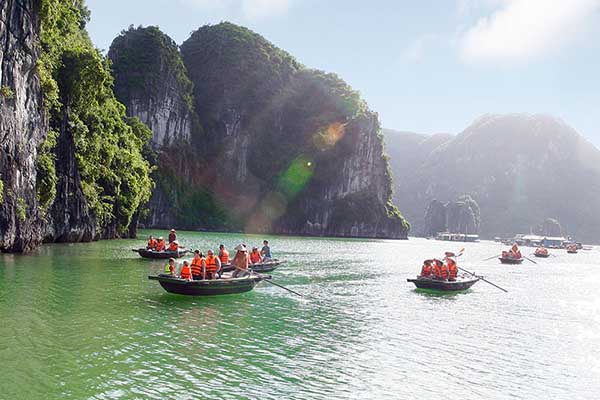 Starting from June to the end of September is the rainy season with a higher chance of storms and typhoon.
The average temperature is quite warm so you can swim as long as you like. 
It tends to rain the most during August but don't worry too much: usually, the rain does not last long so you can relax at your hotel for a day and continue your adventure the next day with a bright blue sky.
During this period, your trip or cruise can be canceled or delayed; however, almost cruise companies will usually give you refund or reschedule your tour in that case.
On the plus side, many cruise lines offer deals and promotions during this low season.
If you keep your eyes on the weather forecast around 14 days prior to your booking, you can easily avoid the crowds and enjoy the beautiful Halong Bay with lower price.
Fall (October – December): Peak Season
October – December is the best time of year and peak season to visit Halong Bay, thanks to its pleasant weather. The humidity level drops considerably and the temperature is around 13°C-21°C.
There is less rainfall during this period of time. However, you can expect cloudy weather toward the end of December.
Tourists can enjoy more sunshine, which is not as harsh as in the summer. 
December is also time for Christmas and New Year, however, you can expect rare light rain during this month.
There will be Halong Bay overnight cruise deals and special programs for this occasion.
Overall, keep in mind that this is the peak season for tourists so Halong is expected to be more crowded. 
On a side note, if you are into squid fishing, mark these months in your calendar because you have the best chance to catch big squids. 
Contact your tour company to have them arranged the activity for you.
What To Do If Your Halong Bay Tour Get Cancelled Due To Bad Weather?
The Management Board of Halong Bay is the state agency in charge of managing all operations Ha Long Bay, including:
Giving permissions for cruise companies to sail and having the rights to cancel or shorten any cruise trip in favor of the passengers' safety. 
Bad weather conditions like typhoons, storms or heavy fog are usually the main causes of trip cancellation. 
All cruise companies and travel agents have to follow the final decision of tour/cruise cancellation by the Halong Bay Management Board which is made till 3:00 PM of the day. 
While they cannot do any about this decision, they will inform their passengers as soon as possible and provide the best arrangement/alternative options they can.
As for passengers, it is highly advised to check the update news and stay in contact with travel agents/cruise operators to be swiftly informed of any cancellation news. 
Of all the four seasons described above, which one is your favorite? Are you into swimming or other outdoor water activities? 
Or do you want to take advantage of promotion programs during the low season? 
After all, the weather is known for its unpredictability nature, so there can be a lot of surprises in store for even the most carefully planned trip. 
But whatever month you choose to visit Halong, there is one thing for sure: you will be charmed by its beauty.