The Tam Coc area glistens in silver and gold as rice fields ripen along both sides of Ngo Dong River in northern Vietnam.
Hundreds of photographers and thousands of tourists are making their ways to Tam Coc, about 100 km south of Hanoi, to capture the stunning seasonal landscape in the area dubbed 'Ha Long Bay on land". Ha Long Bay is a UNESCO world natural heritage in Quang Ninh Province, northern Vietnam.
The Tam Coc (Three grottoes) – Bich Dong area is part of the UNESCO heritage site Trang An Landscape Complex in the northern province of Ninh Binh, home to the ancient capital Hoa Lu under the reign of Dinh Dynasty (968-980).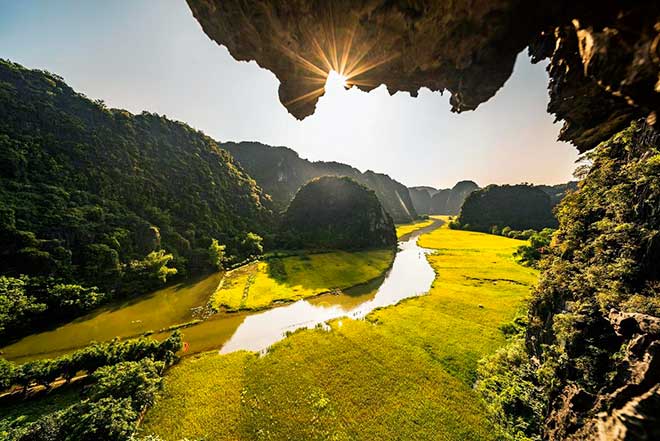 Unlike other places in Vietnam, Tam Coc only has one rice crop per year due to the rise in the river's water level during the monsoon, making farming on its banks impossible.
May and June are the busiest rice harvesting months in Tam Coc and the beauty of ripened rice paddies stretching along both sides of Ngo Dong River, glistening in summer sun, is a heavenly sight.
Tam Coc is just around seven kilometers from Ninh Binh Town, the capital of Ninh Binh Province. At the Van Lam wharf, hundreds of boats stand ready to take passengers on a memorable cruise.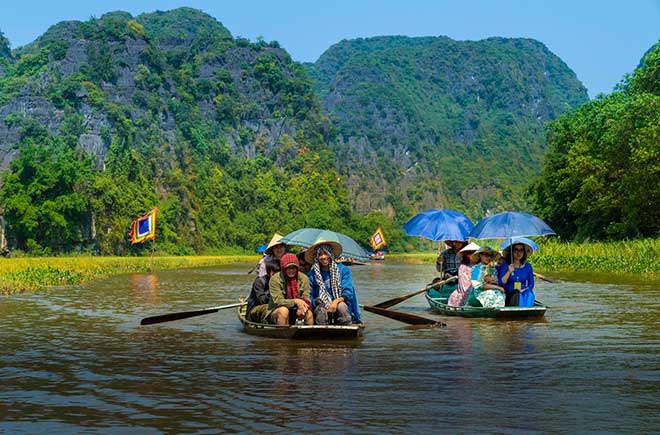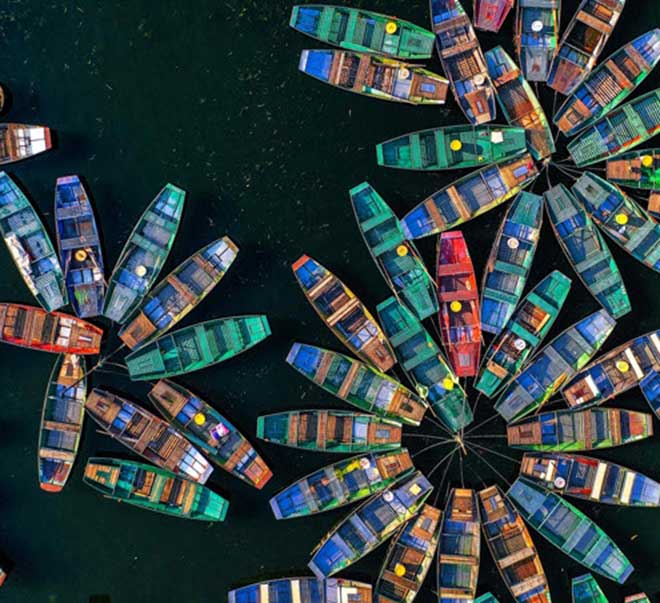 The sightseeing ticket for Tam Coc costs VND120,000 ($5) per person and the only way to go explore the 'golden season' is a two-hour boat tour winding down Ngo Dong River that charges VND150,000 and requires at least four passengers for a trip.
The cruise proceeds through the scenic landscape and goes through three beautiful limestone caves, including Hang Ca, Hang Hai and Hang Ba.
Ca is the largest cave in Tam Coc. It is 127 meters long and more than 20 meters wide, followed by Hai Cave which is about 60 meters long. Ba Cave, about 50 meters long, is the smallest, but considered the most beautiful one in the area.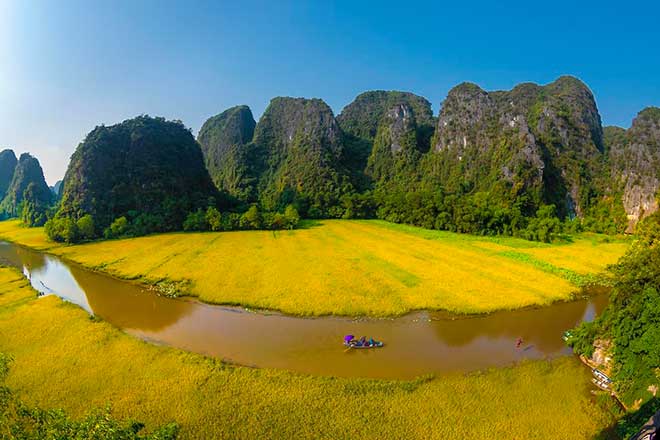 Despite its stunning looks, a Ho Chi Minh City-based photographer told VnExpress International that getting a good photograph during the golden season is not an easy task.
He said he and his colleagues climb up limestone mountains from 3 a.m. onwards and it takes a few hours to reach the top, from where they can capture aerial views of the Tam Coc landscape.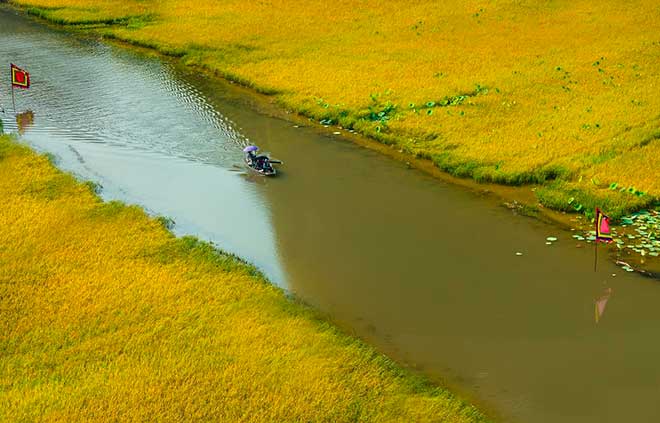 The boat tours are available from 8 a.m. to 6 p.m. everyday.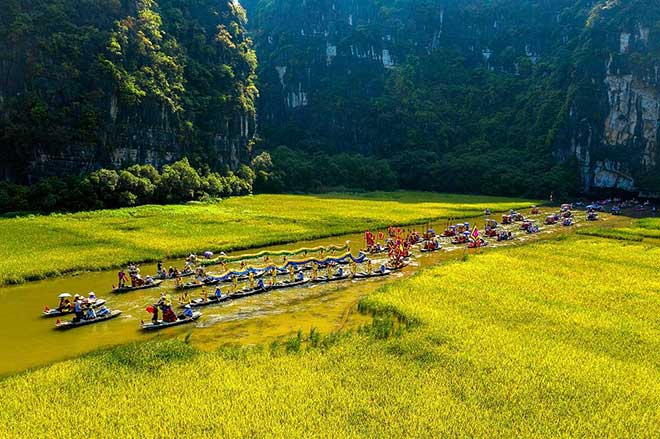 For many years, Tam Coc has become a tourism magnet in Ninh Binh and one of the most Instagrammable destinations.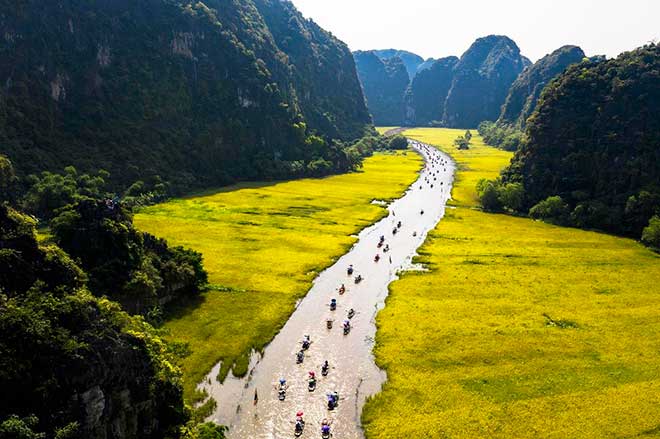 Every local household has a passenger boat and they earn a daily living by offering boat tours to tourists. But the higher influx of tourist has also meant heavier workloads for local boatmen and boatwomen. Rowing with their hands for long hours can lead to severe back pain, so they deploy amazing dexterity and row with their feet.
Hang Mua, miniature version of 'Great Wall of China'
While in Tam Coc, a place that should not be missed is Hang Mua, dubbed Vietnam's miniature Great Wall of China, around four kilometers away.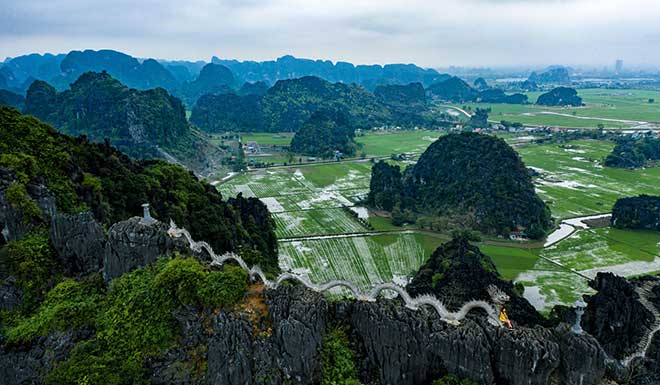 Legend has it that King Tran Thai Tong, reigning from 1225 to 1258, ordered the construction of the Thai Vi Temple, and often visited Hang Mua to enjoy dancing and singing, hence the name, "Dancing Cave".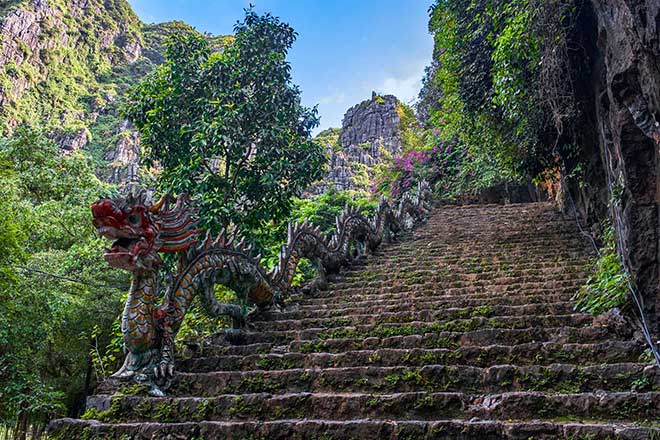 Hang Mua is located at the foot of Mount Mua, which looks like a large overturned bell. Visitors can walk up white stone steps to the peak of the mountain. On both sides of the steps are handrails elaborately decorated with dragon or phoenix symbols of the Tran Dynasty (1225 – 1400).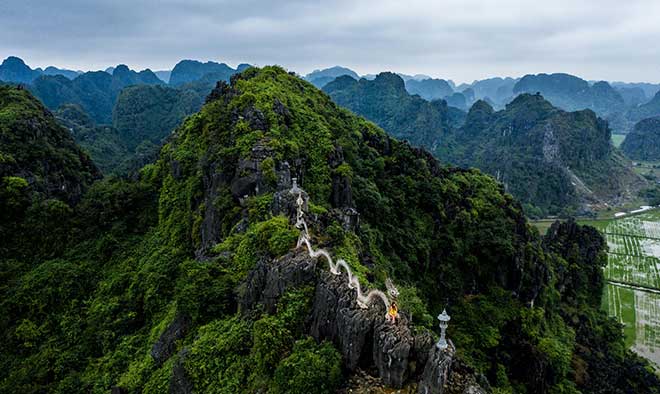 On Hang Mua's peak is a stone carved dragon watching over the valley. The dragon plays a very important role in the Vietnamese culture.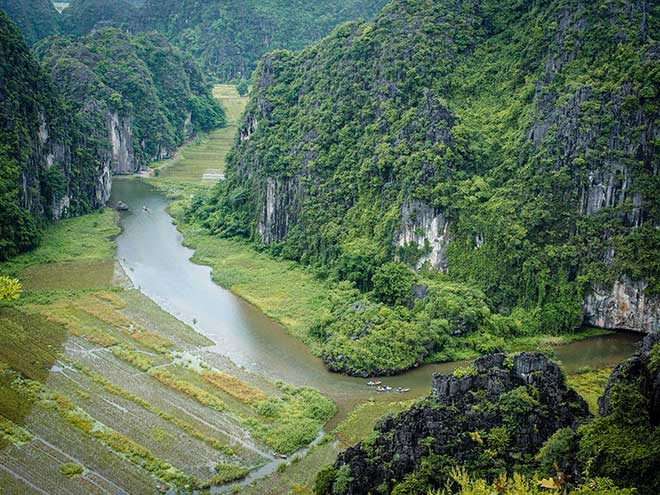 From the vantage point of Hang Mua's peak, the Tam Coc landscape spreads out in all its golden, green and silver splendor. The ancient capital of Hoa Lu, more than a thousand years old, can also be seen.
The fee for a sightseeing tour of Hang Mua is VND100,000 ($4.3).
Travel precautions
The river cruise is quite long, so it is advisable to carry water, hats and umbrellas as protection from the shining sun. Remember to bring along your sunblock as well and keep yourself hydrated during the journey.
Local vendors might try to sell overpriced water and food while you travel, so extra costs can be avoided by carrying needed beverages for the expedition. You can also haggle with the vendors for a better price.
With the traffic in Hanoi and its surrounds much improved in recent years, the journey from Hanoi to Ninh Binh is easy.
A good choice is to hop on a bus from Hanoi to Ninh Binh that takes around two hours and costs VND100,000 ($4.3). With the improved road and traffic conditions, a motorbike trip is also feasible.
From Hanoi, follow Giai Phong Street, turn into the Phap Van-Cau Gie National Highway and go down the Cau Gie-Phu Ly route to Ninh Binh.
Story by Nguyen Quy
Photos by Giang Huy, Meo Gia, Khanh Phan, Pham Ngoc Thach
VnExpress