The most fascinating remote parts of Vietnam (and how to get to them)
Visit these secluded gems before a tourism storm spoils their beauty

Inside Son Doong, world's largest cave. Photo by Urs Zihlmann
Phong Nha – Ke Bang National Park
Son Doong Cave, the world's largest cave with massive sinkholes, mesmerizing pearls, deep river gorges, virgin forests and its own microclimate, is undoubtedly the most remote and fascinating place in Vietnam. The cave is so remote it took its first explorer, Ho Khanh, 19 years to locate its exact position, then a whole team from the British Cave Research Association to officially conquer it in 2009.
Expeditions take four days and three nights through pathless terrain and extreme darkness, and only 500 people are allowed to visit each year so tickets are hard to come by. Phong Nha – Ke Bang National Park is also home to over 300 similarly breathtaking caves and grottos, some of which date back 400 million years. The most well-known caves like En, Tu Lan, Va and Tien take less time to explore, often a two-night camping trek that is no less challenging.
Phong Nha – Ke Bang National Park has been caught up in a cable car debate after the province latest plan to build one to En Cave, a feeder to Son Doong. Though the government also guaranteed that no construction will take place in the entire cave system until at least 2030, the plan received support from the Prime Minister last August.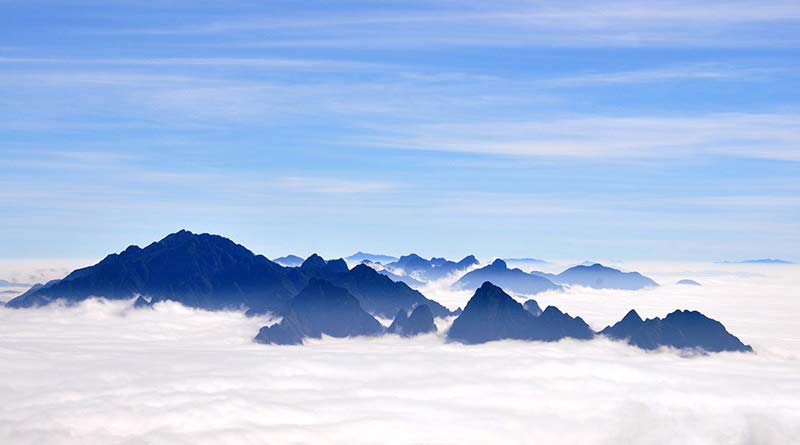 Pu Ta Leng peak. Photo by VnExpress/Le Duy Hung
Pu Ta Leng, Lai Chau
Fansipan, once a top trekking destination in Southeast Asia, has recently become a tourist hotspot with a cable car system that can carry up to 2,000 guests per hour. Fortunately, there're still a few alternatives to Fansipan which are only a few hours away by car. At 3,096m, Putaleng in Lai Chau Province is the second highest peak in Indochina, requiring a long and challenging trek that takes approximately three days to complete.
Putaleng is known for its mesmerizing virgin forests coated with rhododendron blossoms, peaceful rivers and picturesque waterfalls. It takes 7 hours by car from Hanoi to the nearest base, Ta Leng Village, and about 2.5 hours by motorbike from Sapa. Prepare to exert yourself and always hire a local porter/guide for a safe trip.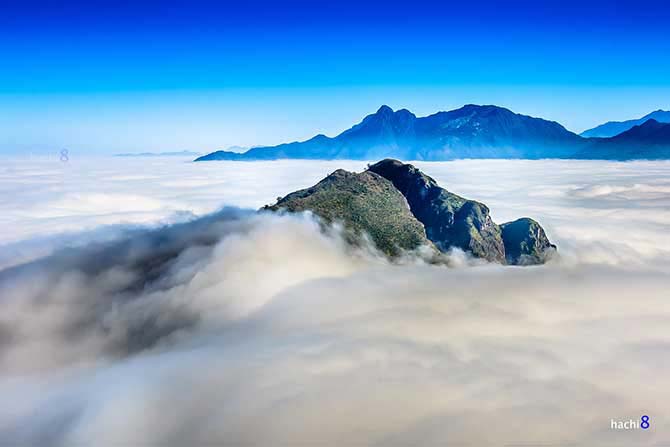 Muoi Mount. Photo by Hachi8
Bach Moc Luong Tu, Lao Cai
The second alternative to Fansipan is only 100 meters shorter and 60 kilometers from Sapa. The Bach Moc Luong Tu mountain range offers two panoramic views — one at 3,046m on Mount Bach Moc Luong Tu, and the other at 2,800m on Mount Muoi Mount.
According to Tran Quoc Anh, a trekking guide at Travel Up agency, the 30-kilometer trek to Mount Muoi, the more scenic spot, usually takes three days and two nights to complete, with challenging slopes, bamboo forests and hair-raising cliffs. The result: a sea of clouds on top of the world.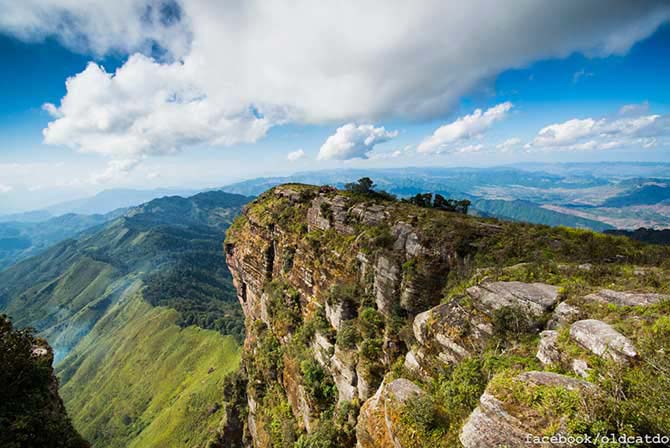 Pha Luong Mountain. Photo by VnExpress/Tran Thuong
Pha Luong, Moc Chau 
The 2,000-meter-high Pha Luong lies on the Vietnam-Laos border and offers exciting views. The trek, which is only 3-4 hours, can be done in a day, but it's the scenic 200-kilometer ride from Hanoi to Moc Chau, then an 80-km ride from Moc Chau to the Pha Luong border station and the last 6-kilometer off-road challenge that really add spice to this route.
The border also means a hotspot for smuggling and drug dealing, so you're not allowed to camp overnight and have to register with Pha Luong border patrol. Get in touch with a local porter/guide before you go, bring your passport/personal ID, pick a dry day and get yourself fit for a fascinating border trek.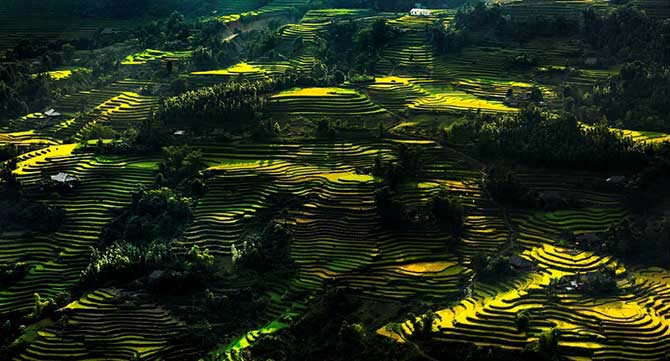 Hoang Su Phi rice terraces, Ha Giang. Photo by VnExpress/Viet Bac
Ha Giang
A neighbor of the overdeveloped Sapa, Ha Giang is still fortunately a wild, exotic and majestic beauty. Most scenic spots in Ha Giang can be reached by motorbike, but the journey is notoriously arduous, especially on the narrow Ma Pi Leng Pass.
With dozens of possible routes, you can make your own schedule for a motorbike trip. The most popular loop is northeastern Ha Giang, which includes the karst plateau at Dong Van, the breathtaking Ma Pi Leng Pass and the charming Meo Vac District. There's also a northwestern loop which passes through rice paddies in Hoang Su Phi, a trek to the 2,419-meter-high Tay Con Linh and the lovely village of Xin Man.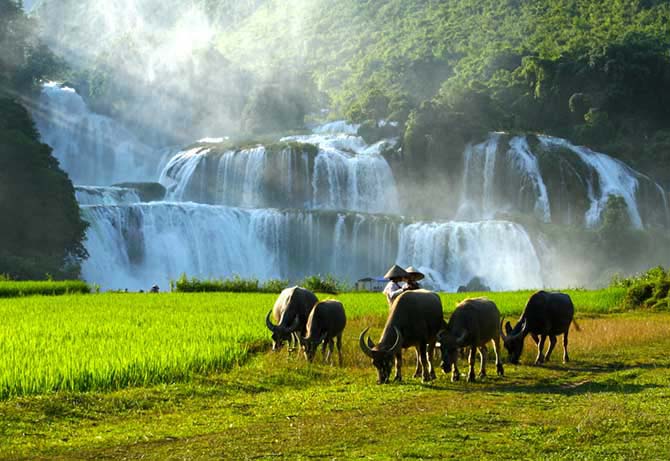 Ban Gioc Waterfall. Photo by VnExpress photo contest/Tran Vu Tuan
Cao Bang
The road to Cao Bang from Hanoi is a twisted, mountainous route. Way fewer people bother to visit the province than the majestic Ha Giang, not to mention the touristy Sapa. The region, however, boasts rivaling landscapes, from the stunning Ban Gioc Waterfall, which sits right at the border with China, to the stalactite kingdom of Nguom Ngao and the tranquil, sapphire-blue Thang Hen Lake.
Historically, Cao Bang was a famous hide-out for Ho Chi Minh, who wintered in Pac Bo Cave through the cold months of 1941 following the end of his years overseas. Ho Chi Minh later produced poems extolling his heavenly, tranquil life in the cave — where he enjoyed his morning stroll along the jade-colored river and humble meals of bamboo shoots and rice porridge.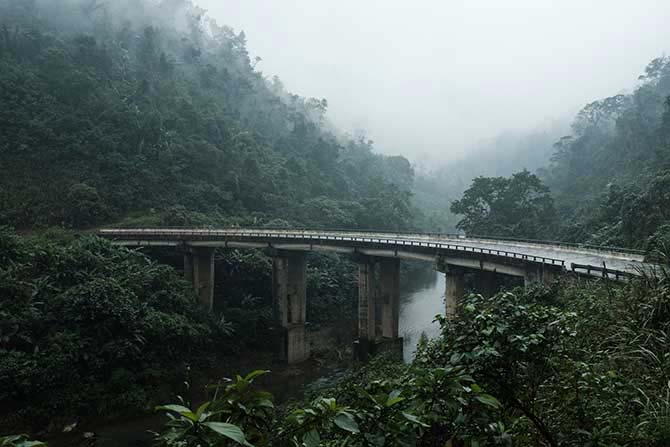 Empty road from Khe Sanh to Phong Nha. Photo by VnExpress/Viet Dinh
Western Ho Chi Minh Road
The name Khe Sanh is more synonymous with an intense and brutal battle that took place 50 years ago than it is as a tourist destination. To this day, few people still live in the war-torn, abandoned area surrounding the Western Ho Chi Minh Trail, which runs from Khe Sanh to Phong Nha.
Viet Dinh, a motorbike tour guide who rides the trail regularly, is still mesmerized by the remoteness of the area. "We see hidden ethnic minorities living in very small and poor villages every 20 kilometers," he told VnExpress International. "But between them, nothing, just road and untouched jungle."
With hardly any shops or hotels along the 230-kilometer trail, it's helpful to prepare extra petrol and snacks. Some riders choose the more scenic spots to camp overnight: karst valleys, breathtaking bends, dense jungles and tranquil rivers. The views get better near Phong Nha, as the landscape of the world heritage national park starts to unfold.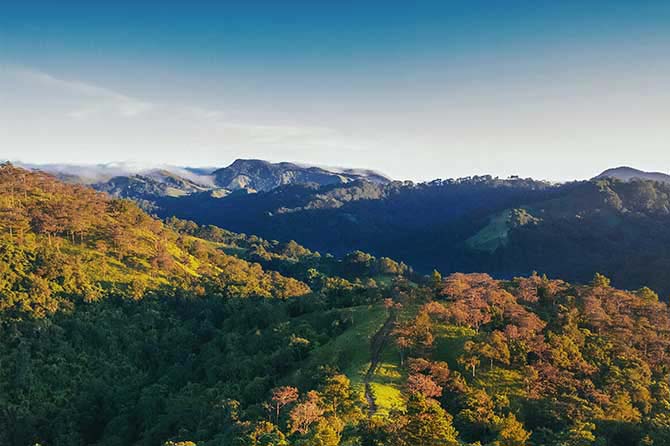 Ta Nang-Phan Dung trekking route. Photo by VnExpress/Hieu Nguyen
Ta Nang – Phan Dung
The 55-kilometer-long Ta Nang-Phan Dung route took the life of a 32-year-old female trekker last October, yet stunning pictures of the diverse terrain still draw hundreds of enthusiasts to the area. The route starts from the central highland province of Lam Dong, passes the mountainous Ninh Thuan then ends in the coastal Binh Thuan.
The 48-hour trek takes you through dense jungles and small rivers that can flood during the wet season, but the rewards are heavenly views of grasslands and sand dunes.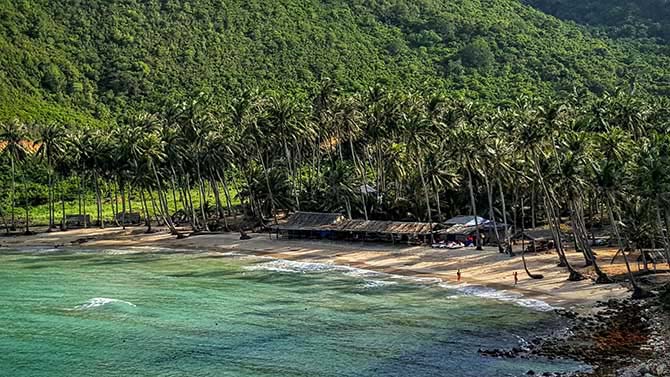 Cay Men Beach, Nam Du island. Photo by trungydang under Creative Commons Attribution 3.0 Unported license
Nam Du Archipelago
Off the southwest coast of Vietnam, Nam Du Archipelago boasts 21 unspoiled islands and islets in the Gulf of Thailand, which is still largely a secret to Vietnamese and foreigners alike. After a 7-hour journey from Saigon to Rach Gia City, and a 2-hour speedboat ride to Nam Du Port, visitors can enjoy pristine beaches, seafood fresh off the boat and long, languid afternoons spent swinging in hammocks.
The journey doesn't seem too arduous, but for foreigners, like many military-controlled areas across Vietnam, Nam Du is especially difficult, if not impossible to get to.
"As far as I know now, [Kien Giang Province] still does not allow foreigners to visit certain islands, like Nam Du," Mr.Hai from Kien Giang Tourism and Trade Investment Promotion told VnExpress International last February, adding that those with a clear purpose like business or study can request special permission.
As far as Vietnam's bureaucracy goes, anyone can try their luck with 'a clear purpose'. Yet if unsuccessful, there're still the far-flung islets of Phu Quoc nearby, which can stun first-timer visitors looking for the perfect hideaway.
Trang Bùi – VnExpress.net