With its 3,000-kilometer coastline, Vietnam is among top 10 cheapest coastal countries for retirees to put their legs up.
Vietnam ranks seventh among 10 best beach destinations in the world for retirees this year, according to a report compiled by International Living, an Ireland-based publishing company that writes about retiring overseas; and Panama-based travel magazine Live and Invest Overseas.
"If 2019 will bring you retirement and a slower pace of life, you may be looking to relocate so you can spend your glory days by the beach," the report said.
For retirees looking for a place for long-term stays at a lower cost of living, Vietnam is a dream retirement destination with many places where a couple can live for less than $1,000 a month, the report said.
Unlike Vietnam's two busier metropolises Hanoi and Ho Chi Minh City, the coastal city of Da Nang offers a slow pace of life in relative seclusion.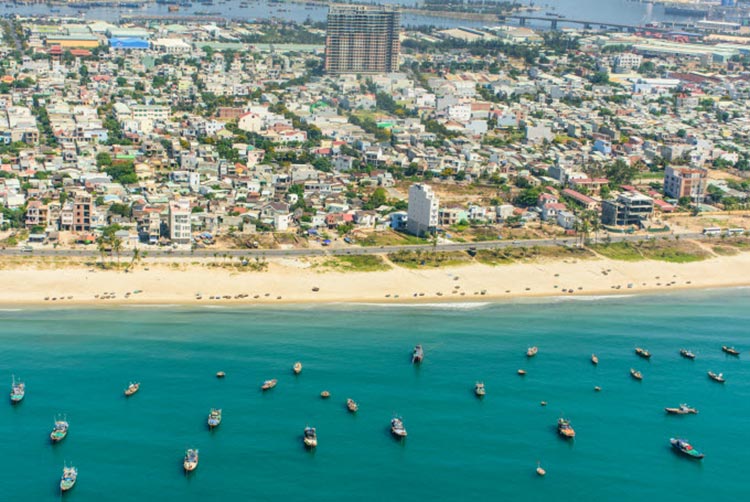 My Khe Beach in the central city of Da Nang is viewed from the helicopter. Photo by Shutterstock/tonkin
Panama tops the list this year, followed by Portugal and Costa Rica. The rest of the top 10 are Indonesia, Malaysia, Ecuador, Thailand, Brazil and Spain.
When it comes to a cheap beach holiday, Vietnam is truly the place with three of the most affordable beaches on earth (Cua Dai Beach near Hoi An, Nha Trang Beach and Long Beach on Phu Quoc Island), says TravelBird, a Netherlands-based travel site.
Vietnam has consistently been ranked as one of the world's cheapest destinations for travelers for its low living costs.
Numbeo estimates an expat's monthly living costs in Vietnam at $700 to $1,400.
In 2017, the Forbes magazine ranked Vietnam as one of the cheapest destinations to visit, with affordable luxury resorts, healthy food at cheap prices and beautiful sights.
Nguyen Quy – VnExpress.net