Tourists row a boat on the iconic Hoai River in the ancient town of Hoi An. Photo by Shutterstocks/Phuong Nguyen
U.S. travel magazine Travel+Leisure lists the ancient town of Hoi An among the 50 best places to touch down next year.
With only two weeks left to go until the year-end, vacation enthusiasts around the world have made travel plans for 2019.
The prestigious magazine asked travel experts, reputed writers and hospitality professionals to weigh in with travel experiences around the world and share their opinions on the world's top trending destinations in 2019.
Hoi An in Central Vietnam, 30 kilometers south of Da Nang, has received high marks alongside others such as Cambodia, Singapore, Langkawi in Malaysia and Uttarakhand in India.
Travel+Leisure also lists a few options for tourists in Hoi An. Co Mai (Madam Mai) Restaurant is in a 200-year-old merchant's house and a must-visit place for signature dishes that will help you gain an insight into Hoi An's spice trade history.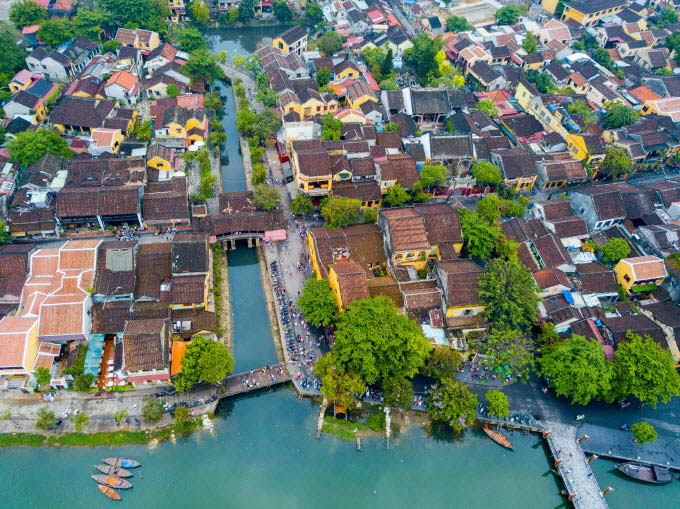 The ancient town of Hoi An is seen from above. Photo by Shutterstocks/Anthony Tran
At Tadioto Hoi An, owned by artist Nguyen Qui Duc, try some Japanese fare and shots of rare sake and whisky, while the menu at T-Room Gin Bar includes gins infused with native vanilla, cardamom and black pepper.
The list also features several European destinations such as Berlin, Cambridge in the U.K., Helsinki and Ischia in Italy.
Last year was a good one for Hoi An, with the UNESCO world heritage site garnering accolades from global travel magazines and retaining its popularity on the global tourism map.
Travel + Leisure had also included Hoi An in this year's list of 15 best tourism cities around the world to explore.
It was voted as the best choice for budget-conscious foreigners seeking to settle down in Vietnam by Canada's The Travel website.
It said an apartment close to the river in Hoi An would cost just $458 a month and monthly food expenses, $450. Thus, monthly living costs in Hoi An would be managed within $1,000, it said. 
Hoi An ranked second in a list of the 10 safest and most exciting places on this earth for solo travelers compiled by travel editors at Momondo, a U.K.-based travel site.
Nguyen Quy – VnExpress.net