In the Mekong Delta, trading on waterways has been a way of life for generations, but its novelty never wears off.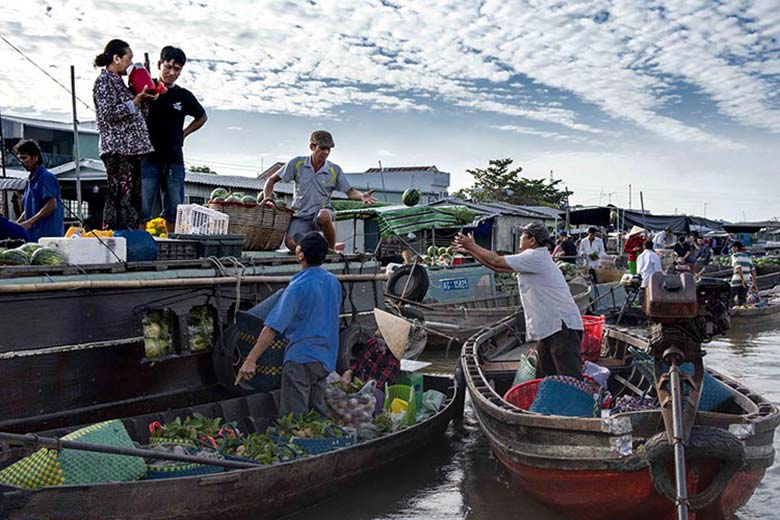 It goes without saying that a floating market has to be on the to-do list of any traveler to Vietnam's Mekong Delta, and the biggest of all such establishments is the Cai Rang Floating Market in Can Tho City.
The wholesale market floats on the Hau River, a branch of the Mekong River. From Ho Chi Minh City, you can get to Can Tho by motorbike, bus or car. Since the road trip takes around four hours, a one-day tour is not ideal and I would advise that such plans are amended. 
The best thing to do is to get to Can Tho the previous evening, spend the night there and save the Cai Rang market tour for the next morning.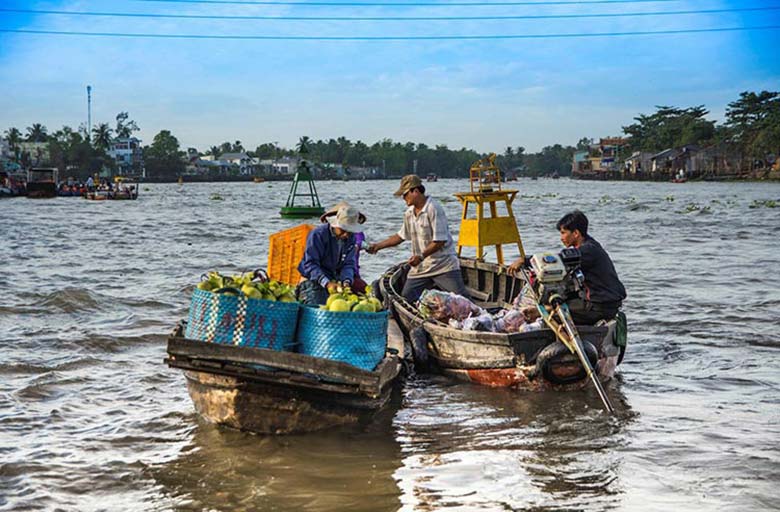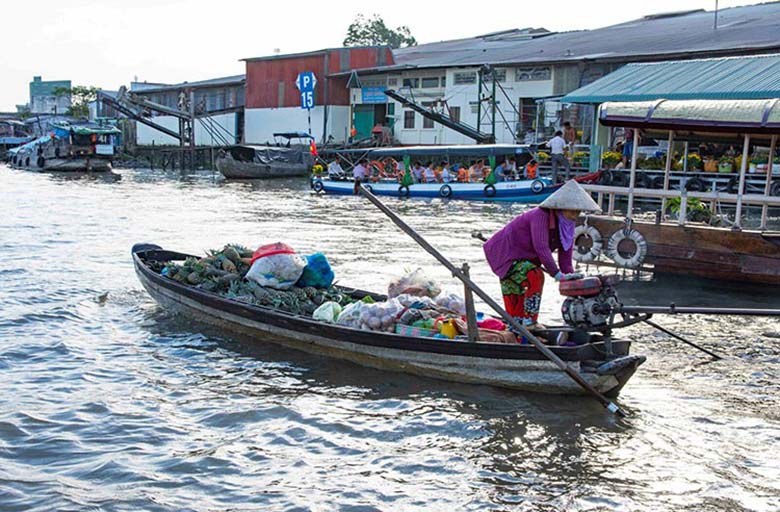 As the market usually opens around six in the morning and runs until 10-11 a.m., the trick here is to show up early to avoid the scorching sun plus the heat and at the same time, catch up with the rush as traders bring goods from farms through small canals and coverge at the floating market.
In Can Tho, head to Ninh Kieu Port, where both locals and tourist firms get their boats ready to bring people to the market about six kilometers (nearly 4 miles) from the city center.
The 40-minute boat ride is an amazing experience on its own, as it passes houses built on stilts over the water, as well as boats of different sizes, shapes and colors docked along the shore.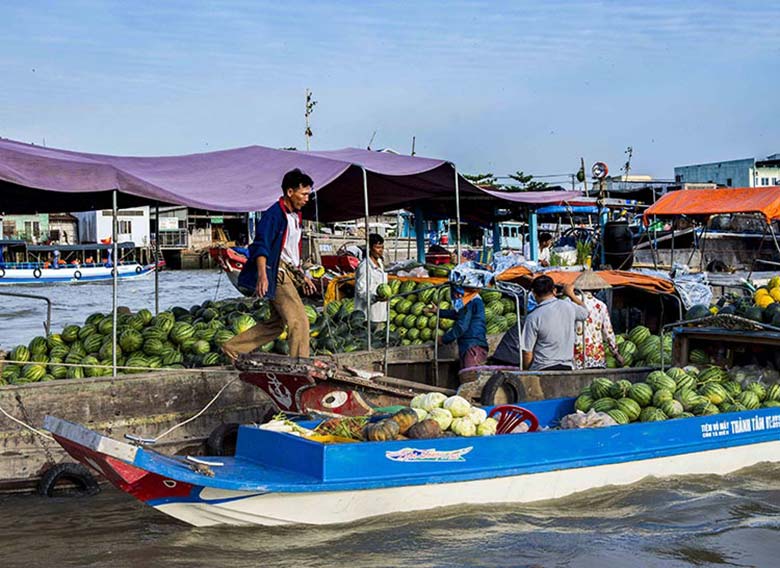 At the market, the peace of the boat ride is broken and the shouts and laughter of traders, the sounds of boat engines, and even the barks of dogs on those boats fill the air.
Traders sell and buy agricultural products, mostly vegetables and seasonal fruits grown in surrounding provinces, and the market demonstrates a way of life difficult to imagine for most mainland residents. Hence, the scene is exciting and amazing.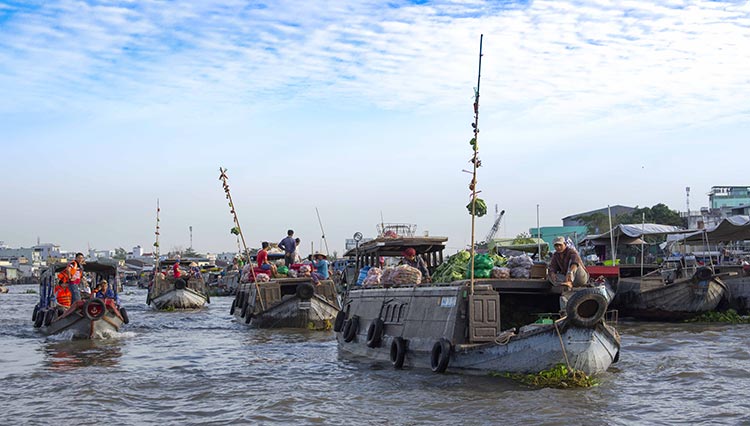 Each boat has a pole on which samples of what is being sold are hung.
And then there are smaller boats with no of such pole: they sell a variety of things, including a collection of fruits and snacks, while some are eateries serving either drinks or hot noodle soups.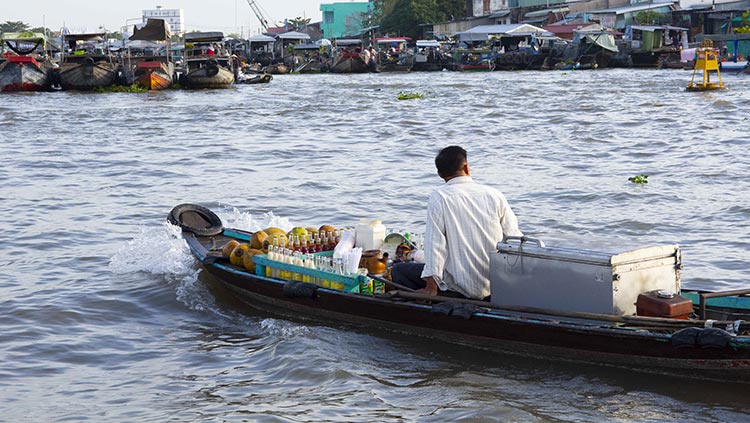 You can stop by the side of such food-court boats to have a drink or breakfast or lunch, or ask the boat's driver to stop at some floating huts along the shore.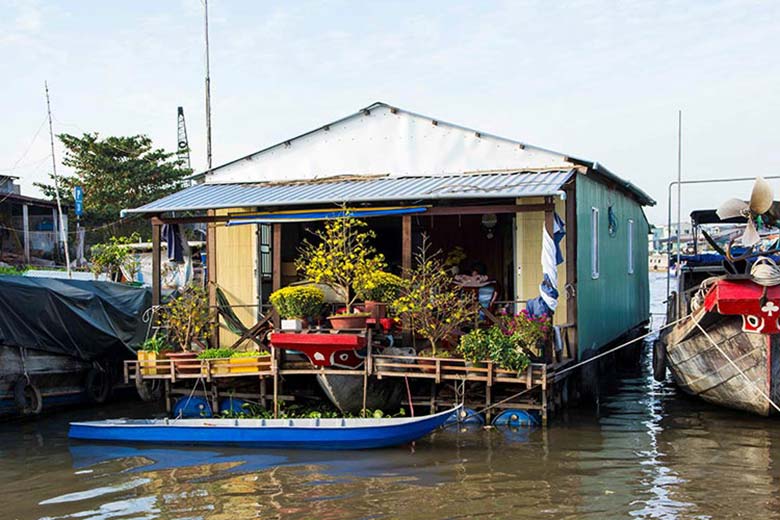 You have certain beverages and dishes in all parts of Vietnam, but having a ca phe sua da — iced coffee with condensed milk, or a bowl of bun rieu — a rice vermicelli soup with a crab meat mixture made of freshwater mini crabs, pork and egg that is almost like a patty, in a floating market is a different experience.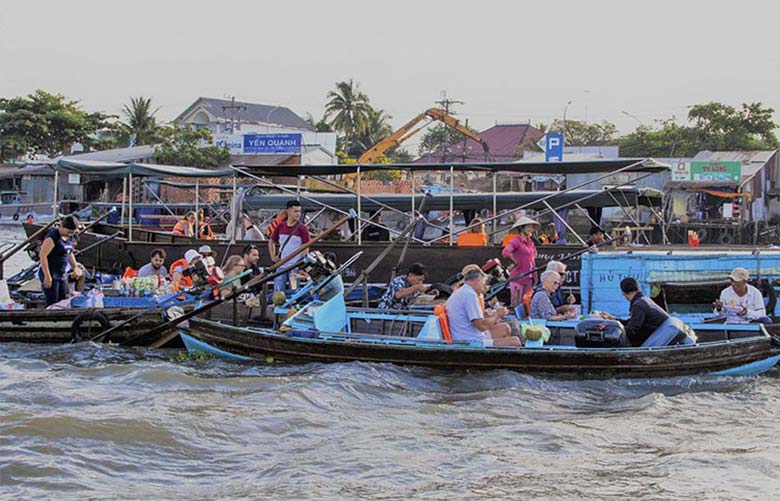 At some point, if you are traveling in small boats driven by locals, you can find yourself stuck in a traffic jam, with boats rubbing against each other and drives pushing to make space, using legs, hands and oars.
This is one of the unforgettable experiences of the trip.
Used as I am to the frustration, anger and resigned acceptance of Saigon traffic jams with all the dust, heat and pollution, a traffic jam at the Cai Rang Floating Market, gets me smiling, which must be contagious because everyone is smiling and laughing and talking with no sign of discomfort. No wonder. There's no smoke or dust, just a cool breeze and water splashing on either side.
Aside from traders with their big vessels, farmers arrive at the market in small boats to sell their produce and do some of their own shopping.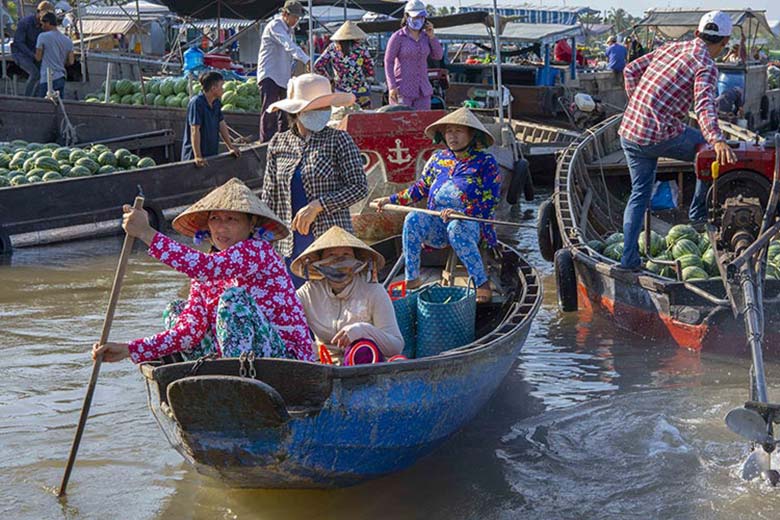 Em, who rows the boat at the front, said she and her neighbors (sitting behind her) usually go to the market several times per week. Laughing, she said she does yet know how to ride a motorbike, but her rowing skills are second to none. 
The adroit maneuvers of both male and female boat drivers as they navigate the bustling market are something to behold, as is the practice of throwing and catching goods to transfer them from one boat to another.
If you are interested in exploring more, you can choose a tourist agency at Ninh Kieu wharf that will take you to local orchards. Here, you can taste some fresh fruit and then, explore canals in the area. Floating on this waterway, with lush greenery on both sides is like being in some kind of wonderland.
As the sun starts to heat the water up, your tour ends and you would return to downtown Can Tho, where you can put your feet up and reflect on what a great day you just had.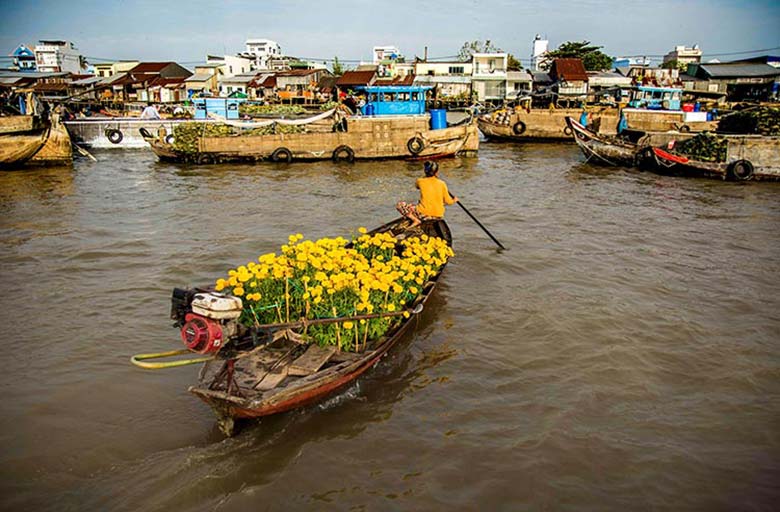 Story by Minh Nga
Photos by Dang Le
VnExpress.net