Hanoi to Ba Be National Park
UPDATED: June 2022
16-seat local van: 350.000vnd/person/way ~ 5-6 hours driving
+ Hanoi – Ba Be Lake: 6.00 – 13.00 – 16.00
+ Ba Be Lake – Hanoi: 6.00 – 13.00
1/ CAR TRANSFERS
We can organise private car transfers from Hanoi to Ba Be National Park. Please contact us for more information.
2/ LOCAL BUSES TO BA BE NATIONAL PARK
FROM HANOI
My Dinh Station (09:00) – Ba Be Lake (16:00).
You should get to MY DINH BUS STATION at 08:30 and look for a local bus (Thuong Nga company). This is the only one that will take you directly to Ba Be Lake via THAI NGUYÊN CITY, leaving at 09:00.
Another minivan from the same company will take you to Pac Ngoi village or you have to take a motorbike to Pac Ngoi village.
FROM SAPA
– Sapa – Lao Cai Station (17h00) – Thai Nguyen night sleeping bus (6h00)- Bang Lung (10h00)
– Buy a ticket for the night bus to Thai Nguyen from Lao Cai Station.
– Buses usually stop every 1 or 2 hours. They are sometimes chilly with A/C.
– Arrive at Thai Nguyen bus station at 06.30 AM the next morning.  (You can get breakfast at a local restaurant)
NB There will be many cars or local buses at the bus station saying 'Ba Be" and they will try to persuade you to use their transport.  However, they will not take you to all the way to Ba Be National Park but only to Cho Ra Town which is 20 km short of the park and then you'll have to hire a motorbike to the Park or pay a substantial extra bus fare.
– The bus that WILL take you all the way to Ba Be National Park is a white one THUONG NGA. It departs at about 08:20. This bus should take you to Cho Don Town where you will transfer another bus before you are let off at Nam Cuong Market, about 2km from Pac Ngoi village.
FROM CAO BANG
Cao Bang (07:00) – Phu Thong Town (11h30) – Pac Ngoi Village (14h00)
-At Cao Bang bus station, look for a bus to Thai Nguyen or Hanoi. However, please ask the bus driver to let you off at Phu Thong to catch another bus to Ba Be (Cho Ra).
-From Phu Thong there are buses to Cho Ra every hour.
-At Cho Ra look for a "Xe Om", (a motorbike taxi) who will take you to Pac Ngoi village.
FROM HA GIANG
Ha Giang (6h00) – Bo Dau Town (13h00) – Cho Ra Town – Pac ngoi Village (motor taxi)
For all local buses, the travel route or time can change depending on local conditions
Please contact us if you need any assistant
Ba Be National Park Tourist Map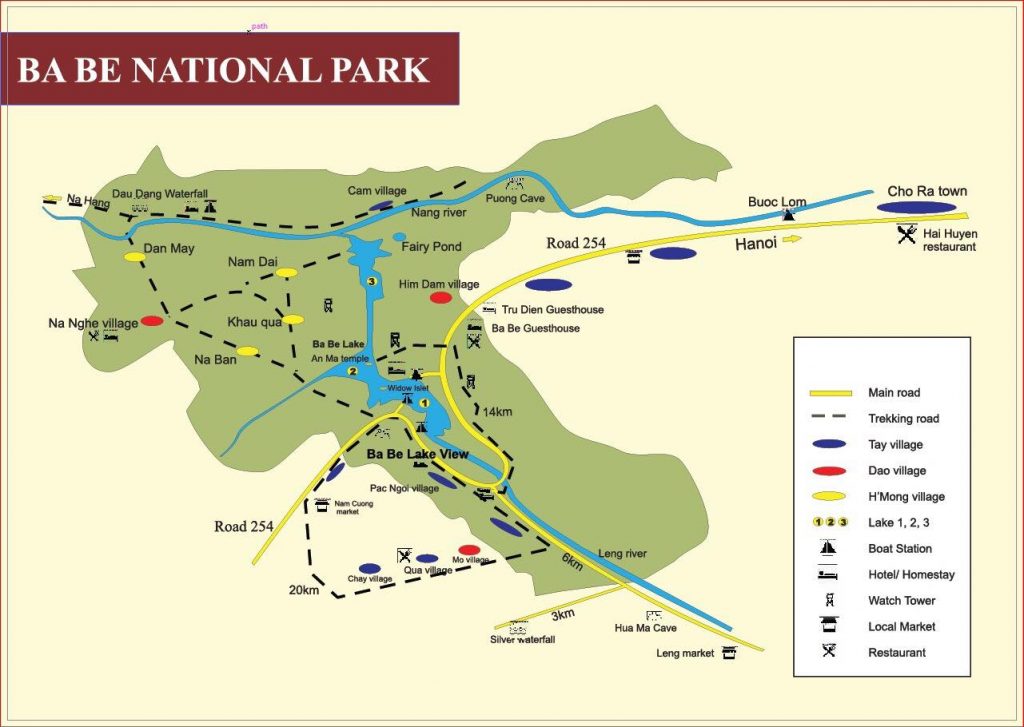 North Vietnam Map