Vietnam's mountain range Hoang Lien Son is an irresistible charm with its breathtaking natural scenery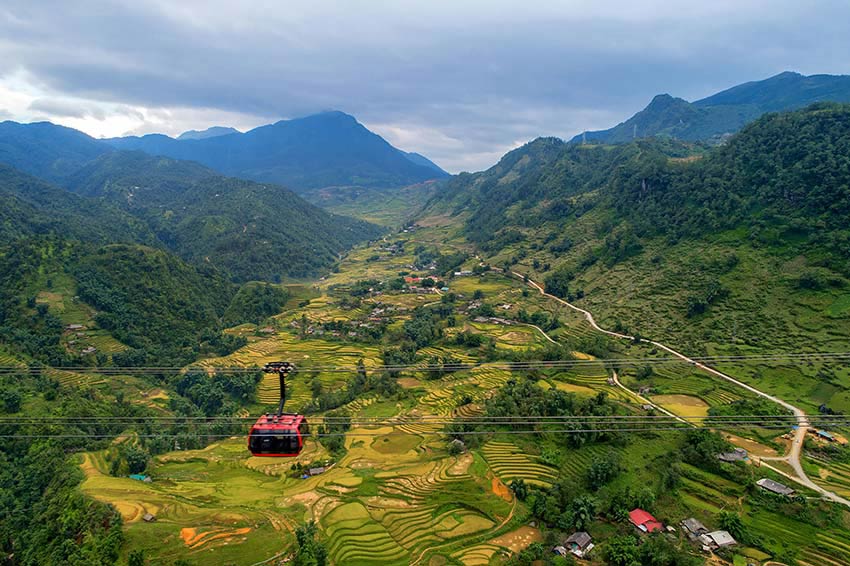 Photo by Shutterstock/Tonkinphotography 
Hoang Lien Son mountain range is among the grandest in Vietnam. The mighty range runs a length of 180 kilometers in the northwest of the country through Lao Cai, Lai Chau and Yen Bai provinces.
At its foot lie picturesque valleys in which ethnic minorities like the Dao, Tay and H'Mong live.
One of them is lovely Sa Pa town, which has become a household name in Vietnam as a tourist attraction.
Last November the U.S-based National Geographic magazine listed the mountain range among the best travel spots for 2019.
It offers visitors breathtaking views from the roof of Indochina, trekking trips through rugged rocky roads and a glimpse into ethnic minority cultures.
Fansipan peak – dance of the clouds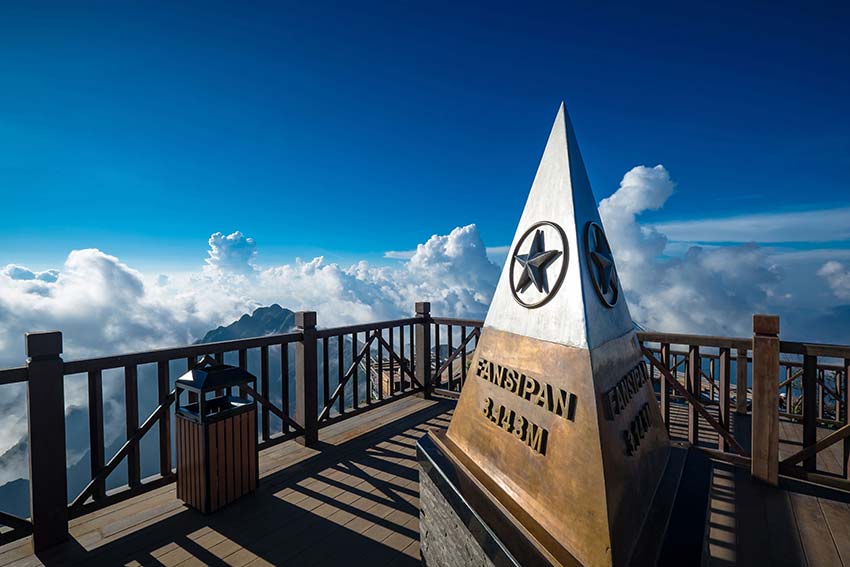 The monument at the summit of Fansipan, the highest peak in Vietnam. Photo by Shutterstock/Ekkalak Ngamjarasvanji
Fansipan has always been an appealing challenge to Vietnamese trekkers as it is the roof of the country. Trekkers usually need a local to guide them to the top, and travel in large groups to ensure safety.
But now, for amateur trekkers, cable cars have come to the rescue. The cable car station is located in Muong Hoa valley, and the system operates from 7.30 a.m. to 4.30 p.m every day. A round-trip ticket costs VND700,000 ($30.02) for adults and VND500,000 ($21.44) for children.
The 15-minute ride takes visitors over the beautiful valleys of Sa Pa and lush green forests. As the cable car rises up to the 3,143-meter peak, white clouds will swallow it, but passengers are rewarded with breathtaking downward views and a feeling of floating in the sky.
Through the glass wall of the cable car, visitors can also marvel at the grand waterfalls and gold-terraced fields if it is the harvest season.
Religious experience – city in the cloud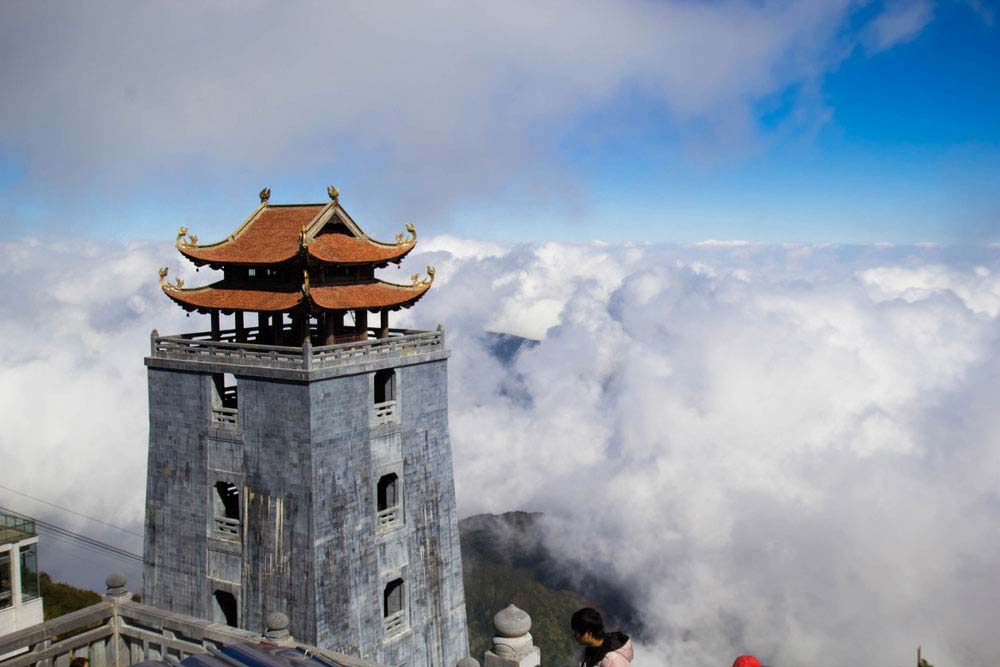 The bell tower on top of Fansipan. Photo by Shutterstock/Tony Albelton 
Reaching the summit is not the only goal of the journey. The "city in the cloud" on the way to the top of Fansipan peak offers a religious experience you don't want to miss.
The religious complex on Vietnam's highest peak stands amid mighty mountains, concealed in a curtain of clouds and its bell resonating in every corner of the rocky mountains.
Visitors can see a grand Buddha, the tallest bronze statue in Vietnam at 21.5 meters, made from thousands of bronze pieces 5 millimeters thick. This is one of the most sophisticated Buddhist constructions in Vietnam.
Trekking amid nature – Hoang Lien National Park
For a more challenging option, visitors can choose to explore nature by trekking through Hoang Lien National Park, a 29.8-hectare reserve lying within the Hoang Lien Son mountain range. The core area of the park stretches across Sa Pa and Than Uyen districts in Lao Cai Province.
The park, which lies between 1,000 and 3,000 meters altitude, has primary forests with diverse flora and fauna. It is home to Golden and Love Waterfalls and Mt Fansipan.
You can climb up to Fansipan in two days. It is best to book a climbing tour so that a local guide will lead you to the top of the mountain.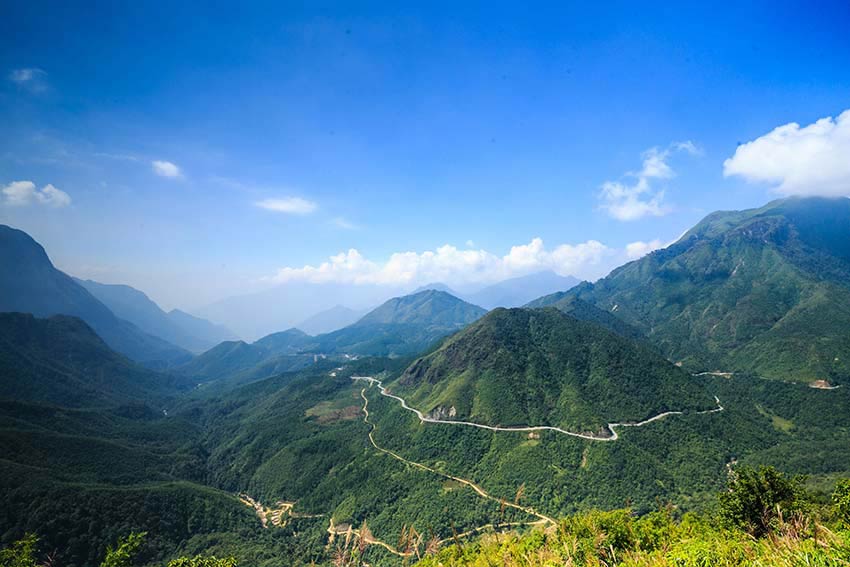 O Quy Ho pass in Sa Pa, Lao Cai Province. Photo by Shutterstock/Quang Nguyen Vinh 
O Quy Ho Pass is another notable destination in the park. It connects Lao Cai and Lai Chau provinces and is one of the most majestic passes in northern Vietnam, offering a panoramic view of the whole area.
Cultural experience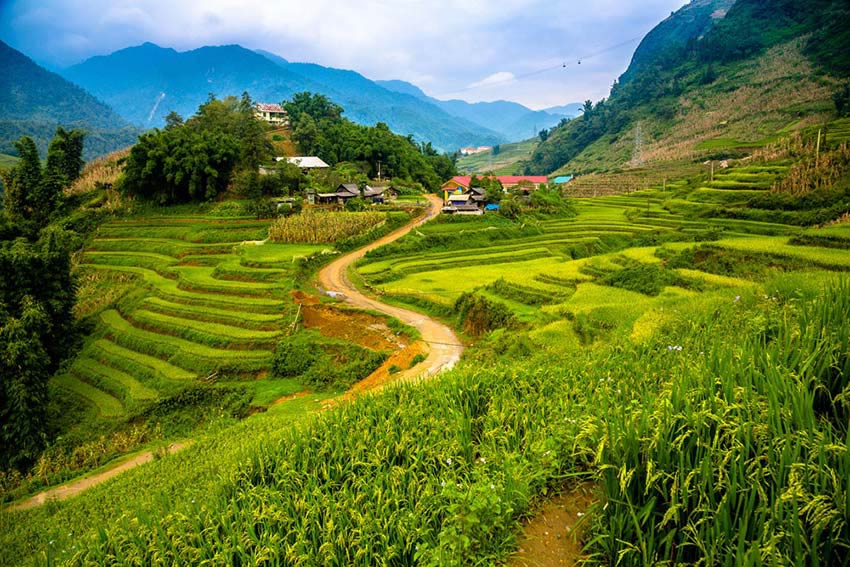 Cat Cat village in Sa Pa town, Lao Cai Province. Photo by Shutterstock/naytoong
You can also try a motorbike ride through the villages of Sa Pa for a cultural experience.
Cat Cat village, two kilometers from Sa Pa town, is home to the H'mong people. Visitors can experience the H'mong culture by walking around, seeing their daily farming activities, trying on traditional clothes, watching them weave fabric. 
For a less touristy place, you can visit Sin Chai village, another H'mong village, four kilometers from Sa Pa and off the beaten track.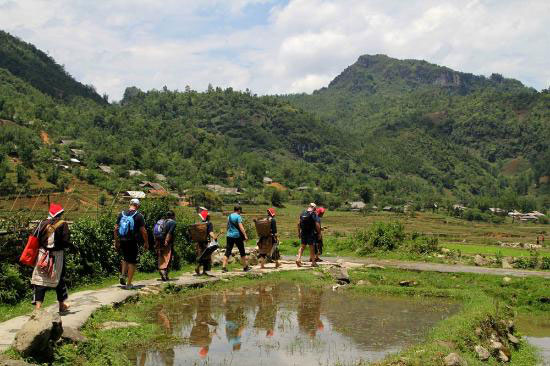 A small path in Ta Van village, Sa Pa, Lao Cai Province
Ta Van village is a bit more remote from Sa Pa. The village lies inside Muong Hoa valley and is home to the Giay and other ethnic minorities.
Situated at the foot of a mountain, Ta Van has beautiful rice terraces which turn golden during the harvest season and emerald green during the planting period.
Delicacy
Visitors can enjoy a variety of mountainous delicacies in Sa Pa town such as thang co (a H'mong dish cooked from horse meat, beef and offals), grilled pork, com lam (rice grilled in bamboo hollow tubes), chicken and waterfall's fish.
To cope with the cold weather in the high altitude, visitors can opt for a hotpot of salmon or sturgeon.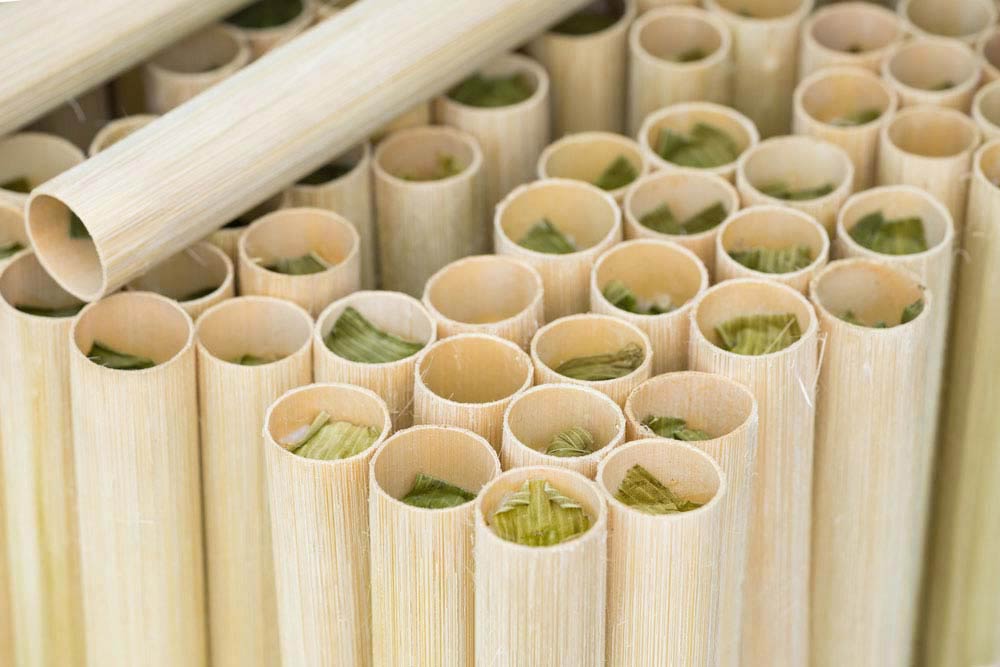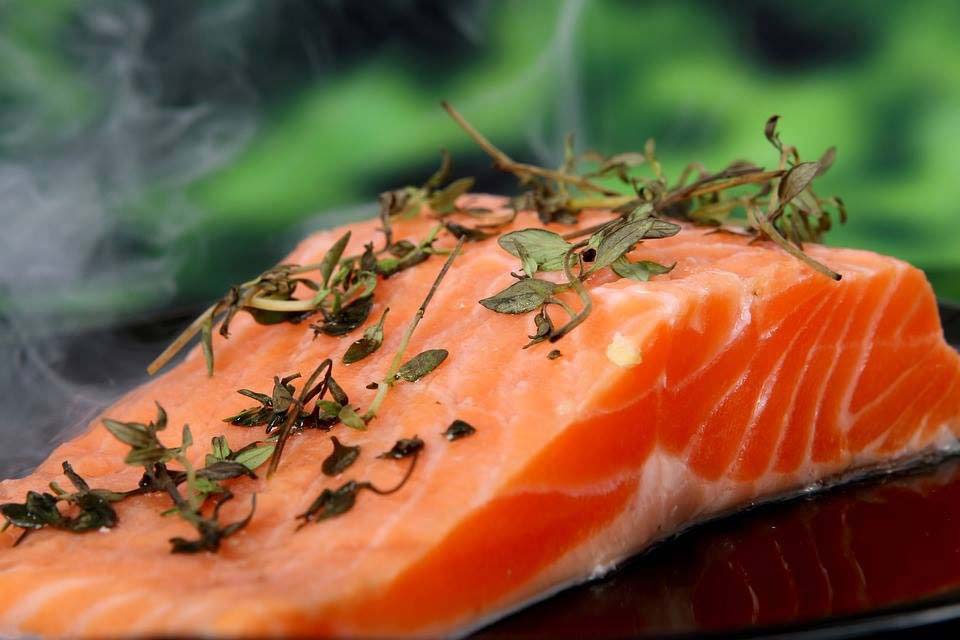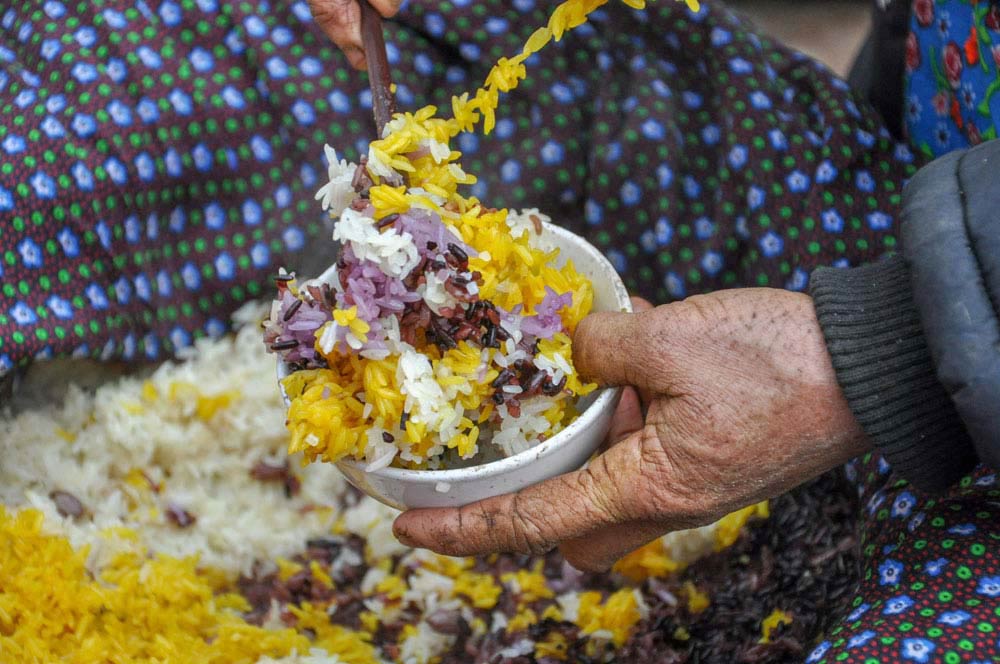 Visitors can also enjoy the exotic cuisine of the mountainous area with traditional dishes of the North West such as Sa Pa sausage, Bac Ha noodle soup, dried beef, steam sticky rice, prepared by ethnic people in the market area near Fansipan cable car station.

Transportation
To visit Hoang Lien Son, visitors need to reach Sa Pa town by motorbike, train, bus or private car. Motorbike trip for over 300 kilometers from Hanoi to Sa Pa may be suitable for adventurous souls, but for common tourists, taking a train to Lao Cai Province and then another bus to Sa Pa town may be a good option. 
Train ticket ranges from VND500,000- 1 million ($21.44-42.88) from Hanoi. 
The most convenient way is to book a night bus from Hanoi to Sa Pa. The 5 hour ride costs only VND200,000 – 400,000 ($8.58-17.15) and take visitors straight to Sa Pa town. 
Story by Bao Ngoc
VnExpress.net